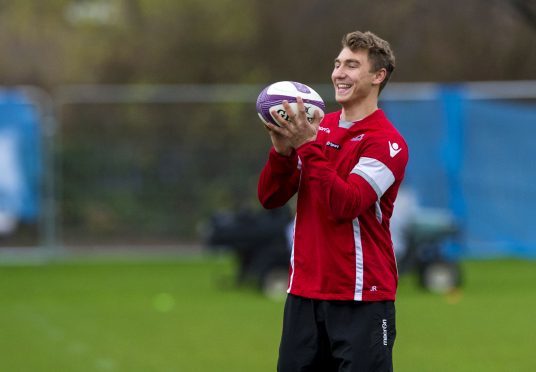 History is not an uncommon thing at BT Murrayfield but there is a special and unique version in tonight's Scottish Schools Cup Final with the stranglehold of the Edinburgh schools broken and an all-Perthshire battle for the blue riband of Under-18s rugby in Scotland.
Strathallan School are clear favourites over their near neighbours and rivals Glenalmond College, but the big pitch at the national stadium can do strange things to favourites and underdogs.
Strath have already beaten both the last two champions, Stewart's Melville College and George Watson's College, in the quarter and semi-finals. They ended Watson's unbeaten record this season with a hugely impressive 21-3 win at Myreside, reversing their own sole defeat this season from the opening game of their conference schedule.
Strath have been in imperious form in the cup, conceding just six points from two penalties in their four games to reach Murrayfield.
Glenalmond beat their conference leaders Fettes 6-3 in a tough semi-final in foul weather at Neish's, Ben Morrison's late penalty proving the winner – Fettes would have progressed under the rules of the competition had the full-back missed.
Despite a strong rugby history and a succession of Scotland captains coming out of the school, it will be their first Murrayfield final.
The two teams met this season in October with Strathallan running out comfortable winners. Many of the players tonight met the Under-18 Schools Shield final last season, the Forgandenny school winning that one as well.
Strathallan School
Andy Henderson's plan when taking the director of rugby post at Strath was to create a culture and build a tradition at a school which was not regarded as one of Scottish schools rugby's powerhouses, and the evidence is clear that it's worked, not just from the success of reaching another Murrayfield final.
Zander Fagerson is the most prominent old boy, in the Scotland team before he was 21, and his brother Matt has joined him in the Glasgow Warriors this season. Jamie Ritchie has been outstanding for Edinburgh this season and was in the Scotland squad for the autumn series.
"They've been a massive inspiration to the boys," said Henderson, whose own son Josh is also in the pro system. "Zander and Jamie were both at the semi-final and it was a huge thrill for the team to meet them afterwards.
"The alumni staff put together a video message from the guys for the team they saw last night, and I know they're both going to be at the final."
Neither however played in a big final for Strath, and the first Under-18s final for the school is a huge landmark.
"It's a real privilege and honour for these guys, because they might not get to grace that pitch again, it may they get one shot and they have to make the most of it," added Henderson.
"It's been quite a year, 19-0 against Stew-Mel was a huge result for us, and then winning at George Watsons was one of the toughest games I've seen a Strath team play.
"We'd never beaten Watson's in my time here and the guys had lost the first game of the season against them having had enough ball to win four games. They wanted to right that wrong, and it was a significant result for us."
Previous meetings between the two finalists should count for nothing, believes Henderson.
"This'll be a fresh page," he said. "We've looked at some ways we can attack them but mostly it's been preparation focused on ourselves.
"It's a big pitch but we've got a pretty robust set of forwards, and some flair and pace in behind. We won't change the way we play, we have our own preferred style and we want to play to let the boys express themselves, so we'll stick to that, be unrelenting upfront and then get the ball wide."
Glenalmond College
Although one of the smaller schools in the conference system – with just 400 pupils – Glenalmond has an incredible record of producing Scottish internationals and captains.
David Leslie, David Sole, Rob Wainwright, Iain Morrison and most recently Dougie Hall were all "Coll" old boys.
More recently Kaleem Baretto, a first XV player last year, has graduated to the Glasgow Warriors Academy and made his debut for the club against Ospreys just over a week ago, while Tom Galbraith won a full-time contract at Edinburgh in the summer.
Graham Smith, Glenealmond's head of rugby, knows his young team are clear underdogs going into tonight's final but is predicting some of the same resilience and bravery that saw them prevail in the epic semi-final in the rain against the highly-favoured Fettes.
"The 6-3 scoreline belies the quality of that game, conditions meant that was always going to be a low-scoring but the guys defended something like 18 phases inside our own five metre line at one point," he said.
"We also knew that a draw would send Fettes through under the competition rules so that final kick and the win was obviously a phenomenal achievement for the school."
None of the previous great names on the school's honour board achieved anything like a Schools' Cup Final, but although there are a number of players in the Caledonia Academy system in the current first XV, it's very much a team ethos.
"We have the policy of that we don't go looking for scholarship players really, and we're a good bit smaller than most of schools at less than 400 kids," said Smith. "These guys have been together since third form and have spent five years coming through the ranks and age groups together.
"We know we're up against it, there's no doubt Strath are the favourites, but the boys are hugely excited to be in the final, and it's a huge thing for the school to reach the final for the first time.
"We've had OGs contacting the school from far and wide because in their day it was never achieved. Rob Wainwright and David Sole have been in touch with their support and it's been great to receive."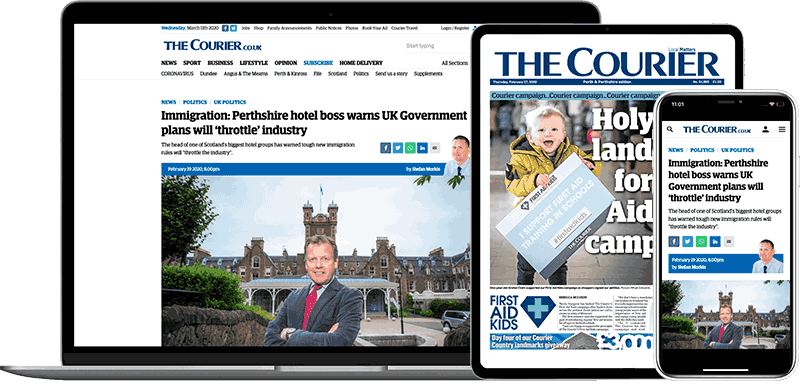 Help support quality local journalism … become a digital subscriber to The Courier
For as little as £5.99 a month you can access all of our content, including Premium articles.
Subscribe