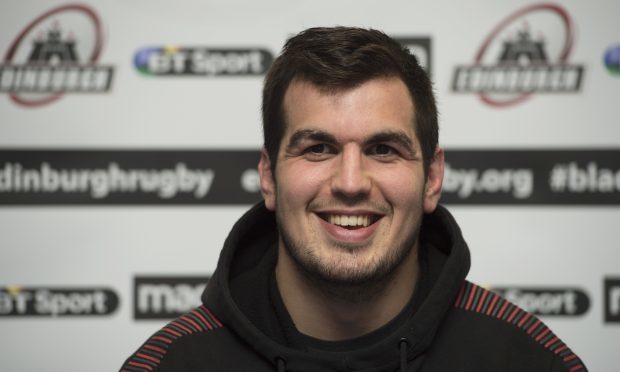 Edinburgh now are "night and day" in comparison to 12 months ago believes Stuart McInally and ready to crack Glasgow's 10-game unbeaten record in the Guinness PRO14 in the 187 Cup on Saturday.
The converted hooker has unquestionably been one of the major success stories of Richard Cockerill's new regime at the capital club, playing some of his best form since moving to the position from the back row, and in all of Scotland's three Autumn Tests.
He got that break because his opposite number at Glasgow Fraser Brown was injured, however, and the two will lock horns in one of the many head-to-heads in the festive derbies that could have a bearing on Six Nations selection.
But McInally first and foremost thinks he's benefitting from the change in attitude and atmosphere at the club.
"Where we are this year, compared to where we were at this time last year, is like night and day," he said.
"It feels like a new club. Everyone is working harder and the standards are higher and you just feel like we have got a good foundation now to grow the club from.
"It is part of the reason I decided to stay for another two years and I am very confident about the future – okay we are not going to win the league this year, but that is okay,  we are really starting to grow."
For himself, he feels he is now comfortable in the position after taking time to adjust to the switch.
"I just feel more comfortable at hooker now, it is not new anymore. My scrummaging has improved and my problem solving.
"When there was a problem in the scrum in the early years I wasn't sure what was going on, but I would just know that we were going backwards and my face was getting dragged in the mud.
"Now Cockers has helped a lot with that just in terms of what I feel from the left or the right and what adjustments I have to make with my two props to counter that, so problem solving is better.
"I was always told that it would take time, but I still wanted it all to come together immediately. Looking back I now know I needed all the experiences."
Facing up to Brown, who captained him when they were in the Scotland Under-20s team, is something he's looking forward to, but he doesn't want to make it a man-on-man battle.
"Fraser is a brilliant player, but look I try not to get caught up too much in individual battles, you are desperate to go out there and be better than your opposite man no matter who it is and training during the week is more about getting the detail right.
"In these big derby games the emotion just comes. Every team is desperate to end their record. They have had really good results in the league and have set the benchmark, but we want to be the ones to knock them off their perch."
McInally certainly knows what kind of style the Warriors play, as the Scotland team he was part of in the autumn played the same fast-tempo game.
"The last couple of years it is the same coaching team with Gregor, Dan and Matt they have picked up from Glasgow and popped it into Scotland, it was successful for Glasgow, and I've enjoyed playing that way in the Scotland squad.
"We have done a lot of work already on Glasgow this week, so we know what to expect and the guys who were in Scotland camp knows what goes through their heads at certain times, so we are as prepared as we can be.
"We have been successful with mauling against them and  we will try and use that as a weapon, but it won't just be up the guts all the time. We will try and play the way we have played in the last couple of weeks we will not change anything, just back our form."
Edinburgh also announced two new contracts yesterday, extending Fijian Viliame "Bill" Mata for another two years and handing Luke Crosbie his first professional deal.
Mata, an Olympic gold medallist with Fiji sevens in Rio, joined Edinburgh in July 2016 but has only really found his top form this season. The 26-year-old has scored seven tries in just 24 appearances for Edinburgh and has four 15-a-side caps for Fiji.
Crosbie, still just 20, has graduated to a full-time contract after eight appearances this season having impressed Richard Cockerill in Edinburgh's summer training camp.
The product of Livingston RFC has been part of the Scotland Under-20 set up while in the Academy system and playing for Currie Chieftains in the BT Premiership.