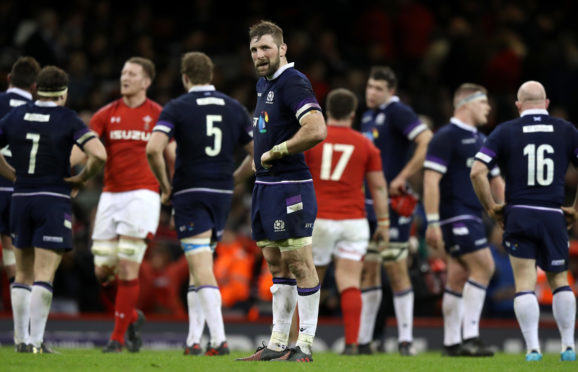 Robert Burns should be saved for infinitely more pleasurable occasions than dreich days in Cardiff in February, but his words loomed large as the Scots trudged away from the Principality Stadium wounded and humiliated yet again.
"O wad some power the giftie gie us, to see oursels as ithers see us!" should be writ large on the Scottish rugby psyche, because a chronic lack of self-awareness about our true place seems contagious before every 6 Nations Championship.
Driven by a fervent desire to be truly competitive in the championship at long last, and with far too much self-regard for small gains, both the team and the supporters continually kid ourselves that we're better than we are. Crushing disappointments like Saturday are the inevitable result.
It's galling, of course, to listen to Warren Gatland and Eddie Jones, who barely disguise their contempt for our rugby and our players, and make us bristle with every backhanded compliment dripping with sarcasm.
Jones, at the 6 Nations launch last week, almost taunted Scotland as "everyone's darlings" playing from "side to side and putting another 10,000 on the crowd at Murrayfield". Gatland, after his Welsh team handed a 34-7 thrashing to the Scots which was actually even three tries less severe than it could have been, was cutting and triumphant.
"I thought we'd win by 20 points," he said. "It was a good way to get ourselves into the championship, having Scotland at home".
Whether he truly expected a challenge or not, the Lions coach who has twice now snubbed the majority of Scottish players sat there smugly like he did four years ago as if to say "well, in what way was I wrong?".
Indeed, in what way are Gatland or Jones wrong about Scotland? Saturday's evidence was again that both can be assured when Scotland are faced with adversity, which will inevitably come in international rugby, their backbones are made of straw.
All the bounding optimism coming into the game, all the self-regard from the performances of the Autumn Test Series, it all looked like a sham. The nightmare of the Twickenham rout last year, too hastily explained away (by this writer among many) as a blip or aberration in Scotland's recent development, was repeated and almost surpassed.
If the Welsh had got those three more tries they probably deserved with Scotland in complete disarray in the second half, 50 points would have been reached comfortably. Pete Horne's late score at least kept the Scots from the ultimate humiliation of being "nilled" but it was an ignominy they deserved on the day.
We had feared the Scots away from Murrayfield have a thin skin, that if things go wrong they are unable to regroup and stem the bleeding. After 14 points in 12 minutes – really six minutes as Scotland had enjoyed superiority from the six from kick-off – it was exposed again.
Wales could scarcely believe their luck. Seizing on two glaring early errors to get their fast start, their much-changed, apparently talent-depleted side were never under the remotest bit of pressure.
If their self-satisfaction afterwards is anything to go by, they could face their own rude awakening at Twickenham on Saturday, but one suspects Gatland won't let them be as complacent.
But back to Scotland. They actually had opportunities to get back into the game even after the early calamities.
Even after they had passed up a shedload of possession and territory by forcing passes when they weren't needed, by virtue of Huw Jones' smart kick and chase, they forced a scrum-five just four minutes before the break.
The scrummage was solid – it was all day – but Ali Price, whose three mistakes inside that first 12 minutes had set the tone, threw a flat pass to Chris Harris, who couldn't take it and knocked on. Scotland never got another look.
Price seems like the ultimate fall guy for that nightmare start, getting isolated to waste an early chance, for the interception pass for Gareth Davies' try, and for the squint feed that gave Wales a reprieve gift after Steff Evans had dropped the ball in the shadow of the Scottish posts.
He picked the wrong time to have a shocker with Greig Laidlaw back in the picture. But he and Finn Russell were hurried rather than playing at the tempo Gregor Townsend expects will overwhelm opposition.
Russell occasionally pinned Wales back with some smart kicking which shows he can play another way than the showboating which did nothing to break down Wales' defensive shield. One of the most galling aspects of the afternoon was how Wales quite happily kicked long to Scotland's back three and simply dared Stuart Hogg to open them up.
Although well marshalled, Hogg at least was one of Scotland's few adequate performers, along with Hamish Watson, who brought what little go-forward from the pack there was.
The scrum was okay but the lineout a shambles. The defence was too narrow and Chris Harris, brought in as a defensive lynchpin, did most of his work scrambling back as the Welsh got outside him time and again with numbers.
Putting the prolific Jones at inside centre and playing Harris – instead of Pete Horne from the start – was a selection hunch too far by Townsend. Similarly, Ryan Wilson even for 50 minutes would have been better than Cornell du Preez's anonymity.
And there would have been another leader on the pitch. For all Scotland's talk of taking responsibility, there was apparently no Plan B for gifting the opposition two tries and no-one to direct Scotland to take a less ambitious route.
Do Scotland throw the baby out with the bathwater for next week? Unlike France, they can't afford to. And there's every chance this bi-polar Scottish team will rouse themselves to a restorative win and the plaintive claims from the management team that Cardiff or Twickenham wasn't the "real" Scotland will be trooped out again.
Don't believe them. Even beating France in the comforting embrace of Murrayfield won't prove anything. The Scots need to be judged on the sort of examination they failed miserably at on Saturday.