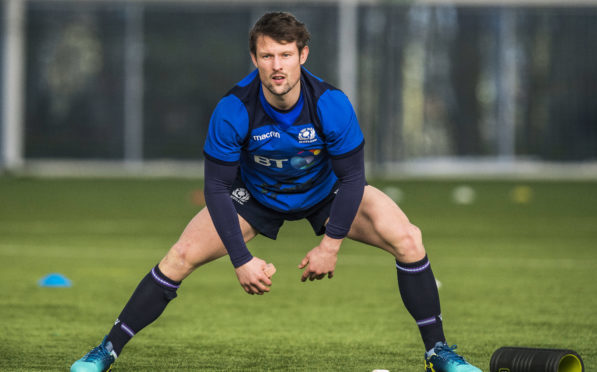 A brutal honesty session in which no egos were spared now completed, Scotland have but the Cardiff debacle to bed and are now focused on France, said Peter Horne.
The Glasgow centre said that there were home truths spoken immediately prior to the match and in a long review of the game on Monday, but they'd left all the regret in the dressing room at the Principality Stadium.
And Horne's feet got right back on the ground with a whistle-stop visit home to see wife Kirsten in Glasgow.
"Renn (Glasgow coach Dave Rennie) is big on things like that," he said. "Regardless of the result, afterwards you go and spend time with the family and don't worry about it. You don't ruin their weekend because you've ballsed up the game or whatever.
"Some of us came here to the hotel, some of us went home. It was good that we managed to get away. We had Sunday to ourselves and our families.
"We came back in fresh on Monday and had a good review, spent a lot of time together. We're in a good place now and ready to crack on with France."
He did find himself watching the game over at home – "sometimes you get a better perspective from TV" – although he spared Kirsten that particular task.
"We were all gutted and it's not one where you could just forget it," he continued. "Playing for your country you're desperate to do well for yourself, your family, the fans.
"There was a big expectation from everyone inside and outside the group. We felt we blew a big opportunity and it has been a tough one to take.
"But it becomes counter-productive to mope around all week. That's why you have the reviews and honesty sessions. You speak about it and put it to bed and have a plan to go into the next week."
The reviews started immediately after the game, although that part is mostly players taking responsibility for their own mistakes.
"I think it's a lot easier just holding your own hand up," added Horne. "There is holding people accountable, but at that point straight after a game there is no need for that. Everyone has a good idea of what they've done wrong, someone calling you out in front of everyone is not going to help.
"Everyone was disappointed, we had a pretty frank discussion, and we left it all there.
"I'd like to think that everyone is mentally strong enough to know that one game doesn't make you a bad player. Everyone makes mistakes, everyone has bad games, that's part and parcel of professional sport.
"You can't ride the crest of a wave the whole time. There will be times when you fall over.
"We just have to suck it up, admit we were pretty poor, and make sure it doesn't happen again."
And there is no time for any more recrimination with the French in Edinburgh at the weekend, at Murrayfield where Horne had possibly his best-ever game for Scotland covering for a concussed Finn Russell two years ago.
"France will be looking to exert dominance up front but we will expect that challenge and it's something they will be excited about," he said.
"When teams talk themselves up in that area it is a great challenge so we are well up for it.
"I can't see us being that bad again. I think there will be a good reaction from the boys as we were all pretty devastated and ideally to be playing France immediately after it you are desperate to get another opportunity.
"We are disappointed and embarrassed by the result last week and desperate to put things right."