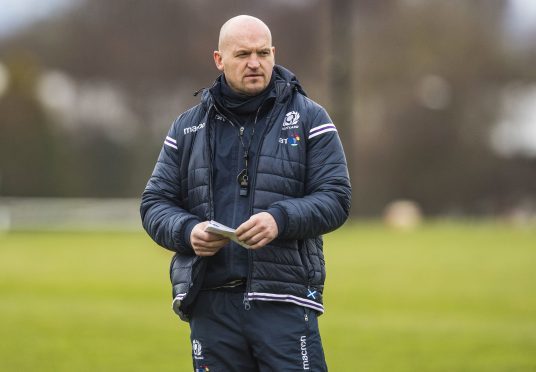 It's tempting to think that Scotland's battling victory over France cures all the many ills from Cardiff, but of course they don't even approach doing so.
For many parts of Sunday's sercond 6 Nations game at Murrayfield, the result hung in the balance. Some of the execution from Scotland was a long way short of the Autumn Tests, and there were a couple more dreadful errors to hand France gift tries and put the Scots on what appeared to be the brink of another calamitous collapse.
That they didn't collapse and rediscovered a resilience they didn't have at the Principality Stadium was a relief, but nothing new. The Scots trailed to everyone but Italy and Samoa during their great run at Murrayfield in 2017 and managed to find a way back to win all but the All Black test.
The home crowd does seem to lift the team. But it's the last two away games they've played in the 6 Nations and the capitulation in both that still is the measurement that seems more defining than the home record.
Still it was an examination passed although a much stiffer one comes in two weeks with England, who were under real pressure from Wales but edged a close one as they seem to do with a nagging consistency lately.
The first half hour against France simply won't do against the English. Here's what the Scots should be looking at for the Calcutta Cup game.
Rediscovering their execution: It was galling in the first half to see France, under a new coach for less than a month, look more coherent with ball in hand than the Scots who have been together as a unit for three weeks on top of the month they had together in November.
Perhaps new and restored combinations were the source, but they are going to come under far more pressure with England's superbly drilled rush defence. In the autumn so much of what the Scots did at pace stuck and at limited times it worked against France. Greater consistency is required.
Contact battle: England's power at the contact area has effectively been the winning of the last four or five contests between the sides. Until Scotland got going in this regard after half-time against France, they were giving up penalties as turnovers proved simple.
A turnaround to a 9-4 penalty count in their favour in the second half – five of them in the last 20 minutes – showed the Scots slowly got the better of the bigger French team here. But don't expect England to tire as the French did.
What to do about Finn: The Scotland stand-off has had a 6 Nations to forget so far. He was too casual in Cardiff and again at Murrayfield, and although he had his moments in attack there were too many brainstorms.
The number of missed touches was unforgivable, surrendering hard-won possession and territory. The missed tackle of Teddy Thomas for France's opening try was hardly worth describing as a "tackle" at all.
Townsend won't drop Finn. But you can be sure that England will send all hands at him, psychologically in the days before the game through Eddie Jones' unsubtle digs and after the whistle blows. He has to be able to hold it together more than he has done in the first two games, or the hook will have to come even earlier than 65 minutes in.
Unleashing Hoggy and Huw: The two main attacking weapons for Scotland need space to operate and it's likely to be at a premium against England.
With Alex Dunbar and Duncan Taylor still not available, it seems likely Pete Horne will be asked to link and maybe the underrated Fifer is a better foil for them both anyway at the moment.
Keep Berghan and Gilchrist in the pack: Simon Berghan's athleticism about the park in attack and defence was a revelation, and he went well against the quality front row in the scrummage as well. Considering he hadn't played since before Christmas, he was better than anyone had a right to expect. Scotland's so-called front row crisis continues to be nothing of the sort.
Grant Gilchrist may be too similar to Jonny Gray in skillset for some, but he gives a more punishing impact with ball in hand than Jonny and is a better defender than Ben Toolis. England's second rows – all three of them, given they're playing Courtney Lawes at 6 at the moment – are better and more dynamic than Scotland's. The Scots held a big pack to at least equality on Sunday, but a bigger, better and fitter one is coming to Murrayfield next week.
Denton is a real impact sub: But for injury, it's hard to see Townsend changing his back row for the rest of the championship. But David Denton's cameo on return to duty was a revelation, his ball-carrying impact a significant factor in winning the final penalties that allowed Greig Laidlaw to secure the win.
A fresh Denton is one way to really test the endurance of the English late in the game. If Scotland can hang on to parity going into the final minutes, he could even be more significant.
To sum up, one hopes Townsend has something significant still up his sleeve he's saving for England. Because it's hard to see what we've seen from Scotland so far in this 6 Nations being of much deterrence to England.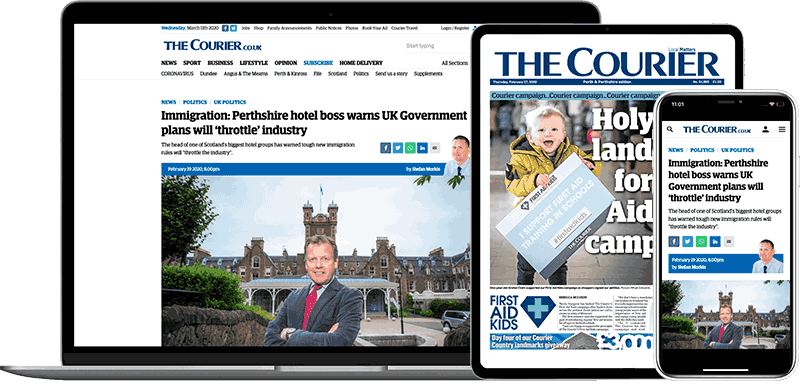 Help support quality local journalism … become a digital subscriber to The Courier
For as little as £5.99 a month you can access all of our content, including Premium articles.
Subscribe