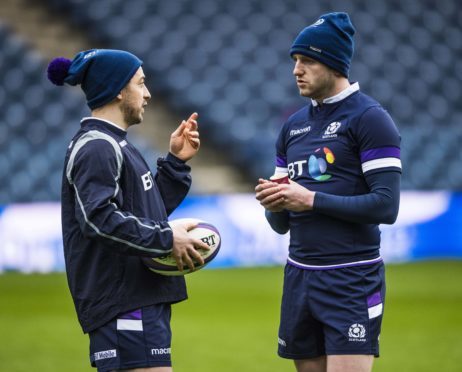 Greig Laidlaw has finally ticked holding the Calcutta Cup as a victor off his personal bucket list and now the aim is to add to that with a notable away 6 Nations win in Dublin.
The Scotland scrum-half's celebrations after the England game – memorably shown on social media – were in keeping with how long he'd waited for that win, but this week it was swiftly back to serious business plotting how to down the Irish on their home turf for the first time since 2010.
"For some reason but it's not been a happy hunting ground of late for us," he said. "We understand the task ahead, we are really excited by that challenge and excited to be taking on Ireland who are brilliantly coached side, not been beaten very often at home, especially in the Six Nations as well. "But we feel that we are in the hunt and we understand that we need to win here if we want to win the championship."
Away wins are a tough enough currency in the championship for anyone, but Laidlaw akcknowledges that the Scots have been the authors of their own downfall too often.
"Clearly it's difficult and we are playing against good teams, but we have probably underperformed and that is the worst thing," he said.
"You can probably accept if you go away from home, play your best game and get beaten by a better team. But in the past we have let ourselves down, we have probably underperformed in certain games and we understand we need an excellent performance at the weekend.
"Can our away form be better? It certainly can. It doesn't feel like a mental thing within the team, although I can see why people would ask about that.
"You look back to the Wales game at the start of this championship and we actually started very well in the first 10 minutes, but then we just switched off.
"But after the last two games we can see that we are really developing and now we have our stronghold here at BT Murrayfield, we have only been beaten here by New Zealand in the last year. The next step is winning on the road and performing to the best of our ability in those games."
Laidlaw got up close to Ireland's two playmakers Conor Murray and Jonny Sexton on the British and Irish Lions tour last summer, and enjoyed their company.
"They're both good guys, serious about their rugby but able to relax as well," he continued. "And they're quality players. I'm sure they won't be holding anything back at the weekend and neither will I.
"Kicking is a big part of Conor's game, his box kicks are more often than not on the money. Jonny likes to attack on any front foot ball, those little wraparound plays. He has a lot of tricks up his sleece and they're both very skilful players.
"If we want to be in the game this weekend we'll need to defend them well."
The kicking game is one of Ireland's chief territorial weapons, but it was England's as well and Laidlaw had pinpointed Scotland mixing up their game in that way before the England game.
"We sat down and spent a fair bit of time on that," he said. "Ideally you will never have to kick the ball away but that is totally unrealistic, so when you do you need to kick for a reason.
"The way England attack, and Ireland as well, is geared to getting into our half through their kicking game so if you can take their strength and turn it into almost a weakness it's a huge tipping point in the game.
"I think we kicked 32 times against England which is something you never thought a Scotland team would do. But it just shows that if you have the right mindset between attacking and kicking for a reason you can kick a lot and still attack very well."
And Finn Russell showed he can mix up his game and be effecticve with his man of the match performance, added Laidlaw.
"I thought he was tremendous in the game," he said. "The way he attacked and found space for player around about him, he makes it look very easy at times but I can assure you it's not.
"I wasn't worried about him after the first two games, I felt he was in a good place.
"Finn's a strong character, he likes a laugh and a joke but he's serious about his rugby and that's a side some people don't see from him.
"He's determined and such a hard worker in training on his skill set and that shone through in the game."