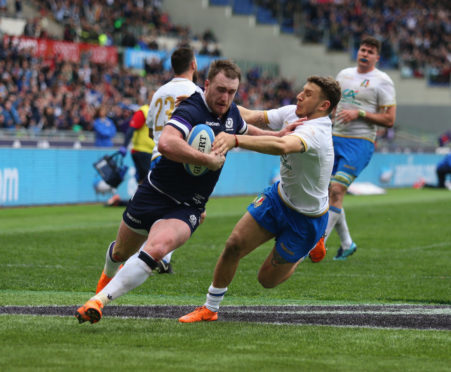 The best sign for Scotland from a traumatic afternoon in Rome – and the underlining mark of this 6 Nations for them – was that they won a game in a manner no-one thought they were capable of.
The irony of the last 20 minutes on Saturday was missed by most – by the Scots themselves, just happy to have sprung from the trap laid by Conor O'Shea and his Italian team and escaped with a third win of the 2018 6 Nations for the second successive year.
Make no mistake, like most of Scotland's games this spring, this one was on a knife-edge. Italy led 24-12 ahead going into the last quarter, and believed that Finn Russell – in perhaps his last and most useful act on the pitch – had intentionally knocked on as they built for what would be a score to break the game open.
But after that turning point – Italy didn't have the ball in the Scottish 22 for the final 31 minutes of the match – the game turned on the hosts' historic staples, the scrum and the lineout drive. Those weapons they've used against Scotland repeatedly over the last 18 years were turned against them by the Scottish forwards in the final quarter.
The official stats had Stuart Hogg as having the most metres gained at 111, but the true winner was the Scottish pack, who easily surpassed that as collective in the final 20 minutes, driving each lineout once they got Richie Gray on the pitch to make possession at that setpiece secure.
The maul had produced a try in the first half for John Barclay, and it produced the platform for the two tries by Sean Maitland and Stuart Hogg – ending a surprisingly scoreless championship to that point – that hauled Scotland back from the brink.
It also won the penalty in the dying moments Scotland needed to complete their comeback a second time. Greig Laidlaw did the rest, as we knew he would.
But what was all this? Weren't Scotland under Gregor Townsend supposed to be sexy rugby, the ball flying around in a flurry of off-loads and luminous boots, playing at a pace that no defence can manage?
Well, that's a great style when it works, but it only really worked for around 60 minutes – out of a possible seven hours of play – of this championship. It certainly didn't work for the first hour on Saturday, as it failed in Cardiff at the very start of the championship.
It's so high-risk there will be times when it all goes pear-shaped. When Russell – who seems to be the litmus test for whether this sexy rugby is going to succeed on any given day – is having one of those games when he looks not like a free spirit but a trapped animal, Scotland have to have something else to go to.
And rather than lump this game together as another example of Scotland's away game issues, a more telling comparison is the game against France earlier in the championship.
In both those games Scotland exploited a lack of fitness in the opposition to come from behind with a more structured gameplan. Like France, Italy were running dry for the last 20 minutes and the mauling and scrum game drained their remaining reserves.
Saturday's switch of gameplan was clearly planned, a plan formulated after Cardiff, it seems. One doesn't imagine the Scots anticipated or wanted to be so far in arrears, but they certainly learned something about themselves character-wise in the final 20 minutes in Rome.
But the full picture of the final game raises more awkward questions about the Scots moving forward. Laidlaw lifted Scotland to the win moving to 10, but how much of his extra time came from tired Italian defenders and Ali Price's swifter, more direct play in his place at scrum-half?
Russell remains an enigma, and unless he finds consistency in France with Racing – unlikely, you'd imagine – he's going to be a liability or an inspiration at turns.
Townsend's curious taste for an adventurous selection is another aspect that could do with some reining in. Again, we got a salutary reminder that when you have a 6 foot 10 inch lineout specialist who is good in the tight and loose, he should play whenever he is fit.
Scotland's travails at the lineout in the last two games could have been simply solved by having Richie Gray starting, instead of willing yeomen like Tim Swinson.
Nick Grigg had a decent game, but it never looked a great fit with Russell and Huw Jones on either side of him. Alex Dunbar or Duncan Taylor remain the best options there, with Pete Horne the back-up on the bench.
Townsend and forwards coach Dan McFarland have some awkward choices in the forwards, particularly the props. Having managed quite well with Zander Fagerson and Simon Berghan at tight-head for a year, it was odd to revert back to WP Nel for Rome.
Nel may be a dominant scrummager but as Ireland's Tadgh Furlong shows, that may not even be a tighthead's most important attribute in the modern game. One assumes defence coach Matt Taylor will be agitating for the more all-round abilities of Fagerson and Berghan.
But these are all questions for the summer and later. Scotland won three games in the 2018 6 Nations playing at half-cock, which lends them some sort of credit. If they can bottle this playing style a bit better than they did this spring, they can tear good teams apart.
But on the other hand, while they're not going to change their overiding philosophy, they learned in this championship how to adapt to circumstances when required and tough out a result. That's to their credit as well.