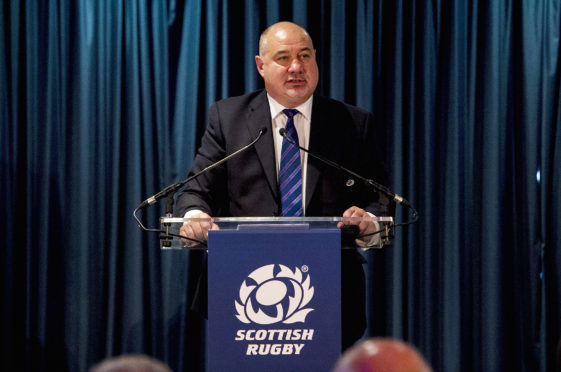 Mark Dodson will stay as Scottish Rugby's chief executive until after the World Cup in 2023 after agreeing a five-year extension to stay at the helm of the sport in Scotland.
BREAKING | Scottish Rugby Chief Executive Mark Dodson accepts Board offer to extend role to 2023.

Read full story ➡️https://t.co/TYcPO2iqg7 pic.twitter.com/EtvoWLhVVX

— Scottish Rugby (@Scotlandteam) March 28, 2018
The Englishman came to Murrayfield in 2011 and has piloted what used to be known as the Scottish Rugby Union to a position of financial strength while on-field results have improved across the board at all levels.
Some of Dodson's ambitious innovations and targets – such as saying Scotland could win the 2015 Rugby World Cup – have been controversial and even missed the mark, but his track record in balancing the Union's books and reducing debt is not questioned.
Scottish Rugby surpassed a turnover of £50 million for the first time last year, the union's debt – a crippling burden for more than a decade after the redevelopment of Murrayfield – has been slashed to manageable levels while sponsorship and investment in the game has risen in all areas.
In addition to finding a name sponsor for the national stadium in BT, international rugby has become a hot ticket with sell-outs now the norm for both Autumn Series and Six Nations matches.
In addition, although Dodson had no prior background in sport – he formerly worked in the media – the chief executive has managed to contribute significantly to a turnaround in fortunes on the playing field.
The men's senior national team are currently ranked at an all-time high of fifth in the world, and with, age-grade, sevens and women's teams all enjoying significant upturns in performance. An established academy system is now producing players for both the Glasgow and Edinburgh pro teams.
Dodson has shown a good eye for big-name coaching talent as well, bringing Vern Cotter to Scotland, promoting Gregor Townsend to the national team post and securing the services of highly-rated coaches in Dave Rennie and Richard Cockerill.
But some of Dodson's innovations have proved less popular with the rank and file, notably his determination to invest the union's money in foreign teams – two clubs in France, and the persistent attempts to gain a financial stake in the English Aviva Premiership, first at Worcester and more recently at Newcastle.
Similarly Dodson has struggled to get grip on a future to sustain the club game, with his attempts to establish a semi-professional "Super Six" tournament to replace the Premiership and return most of Scottish club rugby to a strictly amateur basis – the so-called Agenda 3 project – getting decidedly mixed reviews.
However the new contract extension will mean Dodson will be able to see this transformation of the club game through, with the successful bids to be in Super Six to be announced shortly.
In the meantime it's no surprise that the Scottish Rugby Board sought to secure his services long-term.
"It was important we continue the excellent momentum Scottish Rugby is generating at this time and as a Board we felt it was right for Mark to see through the exciting projects we are developing and provide valuable continuity," said chairman Colin Grassie.
"As the scale of the business grows it is vital there is strong, proactive leadership to ensure all the respective departments and teams are functioning to their maximum and we progress at all levels of the game.
"I'd like to acknowledge the role of my predecessor Sir Moir Lockhead who recruited him and thank Mark for the excellent work he has undertaken so far.
"We are on an exciting journey and one that I'm sure our players and fans will enjoy."
Dodson said: "I think we have made good progress in recent years and I am excited by the challenges that remain ahead.
"It was, for me, the right decision to stay on and continue to develop this outstanding organisation. I am fortunate to lead an incredibly talented workforce hugely committed to developing rugby at all levels of the game.
"We have put ourselves in a very strong position to develop the game in Scotland. It has taken some time to stabilise the organisation, but I feel we can now continue to move forward and ensure the future of the sport is both truly successful and more importantly sustainable."