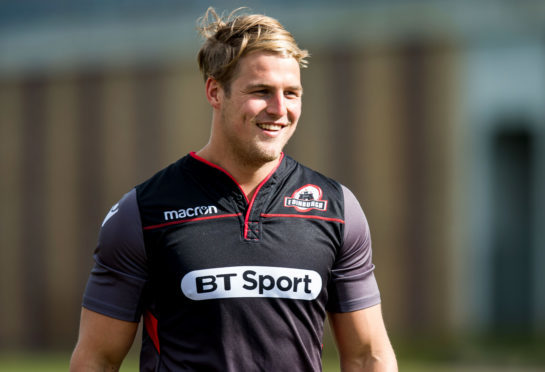 Duhan van der Merwe admitted to some trepidation when he saw Edinburgh's recent record as he came to play for the capital club, but the 22-year-old has been a major impact on their resurgence.
The former South African Under-20 international arrived in Edinburgh from Montpellier last summer but a hip injury left him on the sidelines until mid-season, his debut delayed until – ironically enough – head coach Richard Cockeril brought him in for the away game to the Cheetahs in Bloemfontein.
However since then Edinburgh have lost just one game – the second 1872 leg to Glasgow at Scotstoun – and the 6ft 3in, 16 stone wing has scored five tries in that run, his power, pace and finishing ability reminding Edinburgh fans of their departed long-time hero, Tim Visser.
One win from the PRO14 play-offs and in tomorrow's European Challenge Cup quarter-final against Cardiff Blues at BT Murrayfield isn't quite what Duhan expected when he quit Montpellier – where he was on an Academy contract – for his first full professional deal.
"I'm a bit surprised how well we've gone because when I signed Edinburgh were ninth or tenth in the (league) and I checked previous years, and it was much the same," he said.
"I thought to myself, `oh, okay, I'll just come over and try to get some game time'. I'm a young guy and all I wanted to do was play professional rugby.
"Now, being in the play-off spots and in the quarter-finals of the Challenge Cup is massive. We've worked so hard and I really think we deserve to be competing with the top dogs."
Van der Merwe doesn't have the baggage of the previous regimes at Edinburgh being one of the few newcomers to the squad this season, but he's heard plenty.
"It's difficult for me to say because I don't know what went on in the past, but the guys all say they are much more positive this season, they have much more confidence.
"Cockers and Duncan Hodge just tell me to always work harder and get my hands on the ball. I wouldn't say it is slower or faster the Top14, I just try and get involved, because being a winger can be tough ere sometimes, it's quite cold out there on the edge.
"I guess I came in at the right time but being in this position is great. It's why you play rugby, to compete against the big teams. I'm just enjoying playing at the moment."
He is impressed with the talent in the back three at Edinburgh.
"Blair (Kinghorn) is phenomenal, Dougie (Fife) as well. He's played out of position the last two games and has been brilliant.
"You've got Damien Hoyland, Darcy Graham, and Tom Brown is coming back from injury, they are all knocking on the door. The competition keeps you on your toes and that's really a good thing."
Cockerill sees lots of raw talent in van der Merwe, and their working on sanding off the rougher edges.
"He's a big physical specimen and he's really quick," said the coach. "He's a good player and the tries he's got for us in the last two weeks, I don't think anyone else would have scored them.
"Against Munster to catch Dougie Fife up from where he was to get when that break happened and to get on the end of the pass and get around Zebo was really impressive.
"There's not many other players who would score that try he got against Connacht at the weekend.
"He's a young player and he's still learning the softer skills of the game. But physically and finishing wise he's a good as anyone out there. Just don't tell him I said so!"