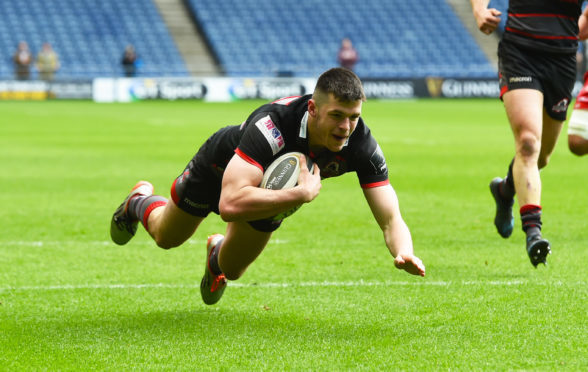 Richard Cockerill's reputation as a tough as teak taskmaster was always a little overstated, but he had to revert to the stereotype to get his Edinburgh team to the verge of the Guinness PRO14 play-offs.
The "arm around the shoulder" man management style hadn't worked in the disappointing defeats to Cardiff and Ulster that meant Edinburgh, looking at play-off rugby on two fronts in their turnaround season, might quite possibly falter at the death.
Instead, reverting to the "kick up the backside" approach he got a performance of real verve and quality from his young team, records tumbling as they routed champions Scarlets 52-14, and now they're at the very cusp of qualification for a play-off game.
They still might not get there, as Ulster can pip them with two bonus point wins over Glasgow at home next Friday and Munster in Limerick a week later, but only if Edinburgh take nothing from the third leg of the 1872 Cup against the Warriors, their final remaining game, in two weeks' time.
That seems an unlikely set of circumstances, and anyway it would be a huge disservice to what Cockerill has done at Edinburgh, whether the method has been carrot or stick.
"I was a little bit bored of putting my arm round them and patting them on the back and saying: 'Are you alright?'", he said afterwards.
"It was a case of saying 'let's bloody well front up and if you really care about what we're trying to do here and it means something to you, then turn up and do it.'
"We are delighted we've won the game, and we've put pressure back on Ulster. We've had a good season and it would be a real shame to let ourselves down at this point."
Even if the Scarlets rested almost a full XV of starters in lieu of their European Cup semi in Dublin next weekend, "they had to be put to the sword, and they were" in Cockerill's words.
For years – since Rob Moffat left – the capital club have been pretty torturous to watch in creative terms. In four seasons under Alan Solomons, they managed just eight try bonus points. This season alone they have seven, which shows that for all his forward-orientated reputation, Cockerill is a much more positive coach than many imagine.
Eight tries in the Saturday sunshine was quite unlike anything the long-suffering faithful in black and red have seen in recent times, if not ever. A gameplan targeted to exploit the Scarlets' soft defence out wide worked like a dream in the opening 23 minutes, as Edinburgh rolled to the quickest try bonus in the PRO14 this season.
Blair Kinghorn has been a revelation this season, and for 38 minutes until he twisted his knee – not thought to be hugely serious, said Cockerill – he was devastating.
Sam Hidalgo-Clyne is leaving at the end of the season and reportedly Bristol are interested. Pat Lam should get the contract signed today on the strength of the scrum-half's performance.
Man of the match Magnus Bradbury, Grant Gilchrist, Dougie Fife, Stuart McInally and many others were all excellent. But the product as a whole serves to underline just what Cockerill has achieved in his first season.
Save for South African imports Jaco van der Walt and Duhan van der Merwe, half a season of Mark Bennett and a number of pick-ups from rugby's reclamation sale, this is really the same squad that won just six games last year, and has now won 14, easily the best campaign in the club's history.
The maturation of Kinghorn, Bradbury, Jamie Ritchie, Chris Dean and other youngsters has helped, but that didn't happen in a vacuum. They've been empowered by Cockerill in a way they just weren't prior to his arrival.
Even if those unlikely circumstances fall against Edinburgh this next fortnight, the achievement remains remarkable. A play-off game would be just reward.