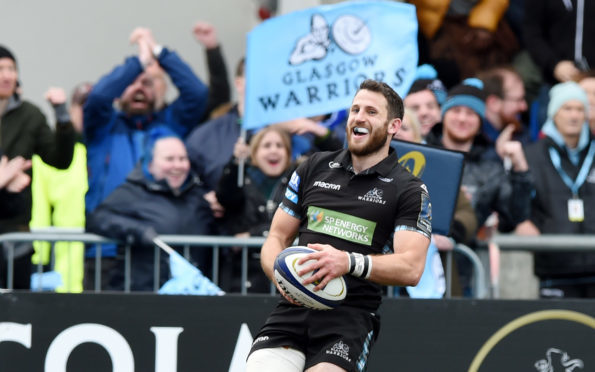 Glasgow will need their "best game of the season" to beat Scarlets in Friday's Guinness PRO14 semi-final, because they can be sure the champions will play theirs, believes Tommy Seymour.
The Scotland wing, having failed to convince Gregor Townsend he should tour this summer with Scotland in favour of a rest, is ready to put everything into – hopefully – the next two matches as the Warriors go for the PRO14 title, but accepts the tough challenge of the reigning champions.
"We're going to have to play our best game of the season, really, because I'm under no illusions, none of us are, that Scarlets will be playing theirs.
"They were champions last year. They've got an opportunity to do something really special and win back-to-back titles, so their motivation is easy.
"Obviously for us winning the title is huge – to get a second championship with Glasgow. So the boys are buzzing about the opportunity to do that."
Seymour sees many similarities between the two teams in their philsophies of how the game should be played.
"They have a really expansive game and I'm a big fan, all our boys are, of the way they play their rugby," he said.
"It's similar to us in the sense that they like to throw the ball around. They've got really good distributors in the forwards as well.
"For us defence is key, we've got to shut down and limit the opportunities that they have to get their strike runners on the ball. And it's also about being clinical when we've got the ball, making sure that we'll handle the pressure that comes with the occasion and push to get across the line for a few scores as well."
Seymour played in both the two previous Scotstoun semis, the thrillers against Munster in 2014 and Ulster a year later, and can't wait to taste the same atmosphere.
"It's great that we've got a big capacity again – up to 10,000 – and it's on its way for a sellout," he said.
"The two semi-finals we've had here have been amazing occasions: very tight fixtures, both of them.
"As we said at the very start of the season, our goal was to get a semi-final back here at home, another game in front of our fans. We've been able to do that, and over the last few weeks there's been a hell of a lot of excitement about playing a semi-final at Scotstoun."
There's an extra incentive for the Warriors team to take down their friend and Scotland captain John Barclay, in what could be his last game for the Scarlets before he makes the summer move back to Scotland and Edinburgh.
"It's nice to get to beat John any time we get the opportunity," said Syemour with relish.
"I'll be honest, it hadn't even entered my mind. We'll worry about beating Scarlets and that will be as pleasure in itself – if Barclay's on the losing side, then obviously it's a little bit of a cherry on top.
"I've not given Barcs much thought. I mean I love him, but I've not given him much thought!"
As for the tour, Seymour has reluctantly agreed that Townsend had a point in giving him a rest after a season which started with the Lions and continued through to this game.
"There were a few guys who were keen to take part, but through very logical reasons we decided to have a break," he said. "I'm always keen to get opportunities to play in the shirt.
"But we've got a thrilling opportunity over the next two weeks – if we get this week right – and I'm just buzzing about that.
After those two weeks, I've been given my orders, and I'll be sticking to them and I'll be enjoying some time off with the family and I'll look forward to that."