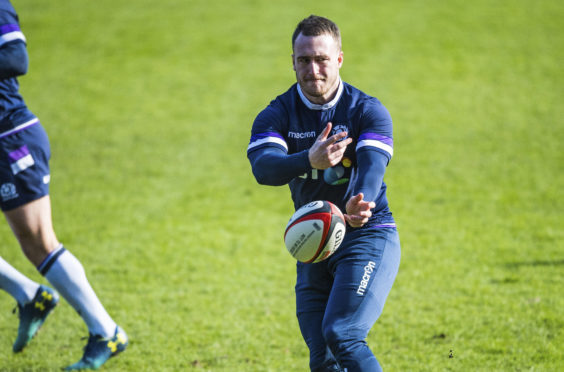 Stuart Hogg is already the poster boy of Scottish rugby – even the new streamlined "skinhead" version – for his brilliant skills but what he's now bringing to the benefit of Glasgow and Scotland can't be ignored, believes Dave Rennie.
Hogg's snap drop goal from 40 metres rescued the Warriors from a sticky situation in the Showgrounds on Saturday, completing a man of the match performance with ball in hand and with the boot.
The drop – Hogg's first in professional play, would you believe, but never missing – lifted Glasgow to a 27-26 bonus point win over Connacht that looked exceedingly unlikely with 20 minutes remaining, ten points down and Adam Hastings in the sin-bin.
Hogg also landed a key conversion with such a perfect strike that a gig as frontline kicker might be not a bad idea, and he also set up the first of the Warrior's four tries teaming up with Tommy Seymour in more familiar style.
But Rennie thought it was the less obvious roles of the Scotland and Lions full-back that told as Glasgow won their third season opener in succession in Galway, but without any of the ease or assurance that they had the previous two seasons.
"He was excellent, but not just at what was obvious," said Rennie. "It was his first drop goal at this level but he nails them for 60 yards in training so that was no surprise. It was really smart to drop back in the pocket like he did.
"He also kicked a pretty important conversion and he laid on the first try. But his contribution is also around leadership and we were very happy with the composure shown by a lot of our leaders to manage our way through that game. We'll be a lot better for it."
The spell that really counted was after Hastings' high-tackle brought the yellow, but Connacht missed the resultant penalty and didn't score again as Glasgow finally took control.
Hogg's role of authority was noticeable throughout with him taking the responsibility for all line kicks and restarts – so well-judged and executed that they became a main attacking weapon in the first half – and also taking a lead role in the on-field team discussions towards the end of the game.
He also got away with one towards the end of the game, clearly fielding a long kick through in play and carrying it over his own line before wasting some seconds and dotting down, but referee Ian Davies missed it on what was a difficult afternoon for the officials.
They weren't helped by a passive TMO and a lack of TV cameras to assist – Jonny Gray was certain he had scored in the first half but there were literally no camera angles from Premier Sports to show where the line was.
Davies later admitted to Rennie that he'd got another key one wrong penalising Nick Gregg and giving Connacht one last shot with the clock red, but Craig Ronaldson's kick scraped the right upright and Glasgow escaped.
"Nick had a clear release (of the tackle), the ref saw the replay and admitted he got that one wrong. It was a fair result that the kick missed in the end," said Rennie. "The one with Hoggy I haven't seen the replay but live it looked like he had carried over, but the refs aren't going to get it right every time."
Davies also penalised the Warriors 17 times, which Rennie conceded was "way too many".
"It is a concern, we'll have a look at it and while there's a handful we didn't agree with, there were some dumb ones there, I think we were penalised three times for taking out the half back," he said.
"We weren't happy with the defence and the missed tackles in the first 40 but we defended our best in the last ten minutes, and it was good to see the intensity even when we were tiring."
The looseness and poor decision-making could be put down to early season rustiness, but Glasgow's much-criticised forwards were well on top and the ease they scored their four tries – George Turner, Ryan Wilson and Adam Ashe scored the others – suggests that with more control the Warriors would have won much more comfortably.
The young half-backs Hastings and George Horne had a difficult day, but the assurance of Alex Dunbar's powerful ball-carrying in midfield as a replacement clearly helped during the dominant final 20 minutes.
Rennie's selection for Munster on Friday at Scotstoun will be interesting, but the coach and the team weren't doing much complaining about a five point haul away from home to start the PRO 14 season.