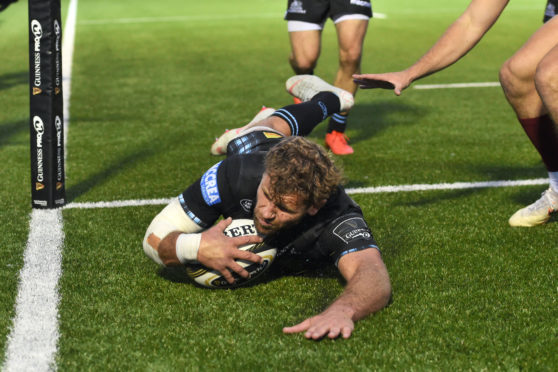 A 15-hour delay in getting to Johannesburg meant player briefing sessions had to be done in the air, but the Glasgow Warriors have arrived in South Africa for their two match Guinness PRO14 tour.
They arrived with co-captain Callum Gibbins exonerated by the league from accusations by Munster coach Johan de Graan of a dangerous take-out of his scrum-half Neil Cronin.
De Graan thought the incident midway through the half a pivotal moment – Cronin had to leave the field – and suggested it might be brought before citing officers, after referee Ben Whitehouse took no action after consulting his TMO.
However Gibbins has not been cited or warned in relation to the incident and is free to play against the Cheetahs on Saturday and the Southern Kings next week.
"The referee saw something out of the corner of his eye, he asked the TMO to look at it and they didn't find any issues, or at least they couldn't find any footage," said head coach Dave Rennie.
"The PRO14 have since had a look at it and they didn't find any issues. It was just a cleanout."
Rennie has had to re-jig his schedules with two training sessions yesterday as the Warriors adjust to altitude for the first game in Bloemfontein.
"We got our meetings sorted, we did one on ones done on the plane, and we had a double day training today, so we are back on a normal week," he said.
"It's beautiful weather here and we understand it will get to 27 later in the week but the guys understand how hard it can be here.
"We have 29 guys here who will be a lot tighter fo being on tour. We will have a lot more time together to tidy things up, and we will make the most of the time we have here."
The team will spend a week training at altitude to acclimatise before the Bloemfontein game, and hope to feel the benefit when they return to sea level to play the Kings in Port Elizabeth.
Glasgow's last gasp bonus point win in Bloemfontein last year was one of their best performances of the season, and a rare reverse for Cheetahs on home soil.
"They will be a different creature at home," said Rennie of the Cheetahs, who have lost both games so far. "We beat them with just three minutes to go here, Munster were the only other team to beat them here and everyone else lost.
"It is a challenge. We will be better than last week and there is a lot of competition for places and we are excited to be over here."
Among the squad members left behind are Huw Jones, still completing his rehab from wrist surgery, and Niko Matawalu, who has visa issues currently being sorted.