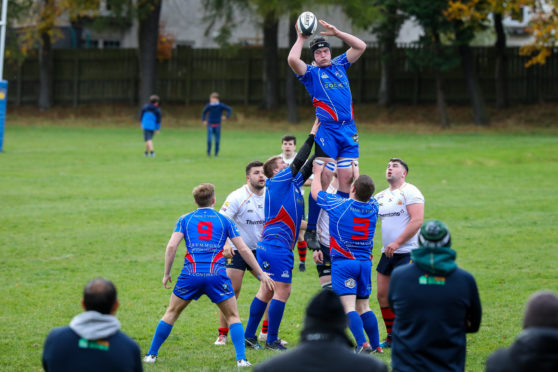 John Methven, the Kirkcaldy RFC stalwart and historian, has just about seen it all, but even he had never seen a game quite like Saturday's at Mayfield.
70 years ago, almost to the day, John left Starks Park frustrated at Raith Rovers' travails (not much has changed) and happened upon a rugby game at nearby Beveridge Park – Kirkcaldy v Dundee High. The 12-year-old was hooked, and he's been following the Blues ever since, barely missing a game.
He must have seen scores of derby battles between the old Midlands rivals. For a long time Saturday's Tennent's National One clash must have seemed like that one back in 1948, which Kirkcaldy won 23-0.
The Blues, wielding their powerful pack, dominating the scrummage and happening on a few gifts, were 22-0 to the good after half an hour's play. Dundee had hardly fired a shot, and had enjoyed only a brief familiarity with the match ball.
High coach Colin Sangster was seething on the sideline, although not as vocal as his opposite number, the ever-combative Kenny Fraser. Only when Dundee finally put together a sequence of phases for Angus Farquhar to score a try, Sangster's frustrations boiled over.
"See what happens when you actually hold on to the ball?", he yelled at his players as they returned to halfway.
In the half-time huddle, Sangster had not calmed down. "This is embarrassing," he told his team. "We had spoken so much about how this was a big game, an important game, and we just didn't show up for the first 30 minutes," he added afterwards.
But the momentum shift had already started. High started the second half intent on building on it, and within ten minutes they were somehow level – three tries in quick succession to claim an unlikely bonus point.
Greg Wallace – who scored one of the Blues' three first-half tries with a 40 metre interception run – had to make a premature departure during the midst of High's comeback and the tattooed talisman's absence was keenly felt by the visitors.
Dundee seemed a team transformed, with the dynamic Farquhar popping up all over the place, big Neil Turnbull rumbling around and sucking in defenders, and Ross Aitken showing all his class at 10.
The visitors should probably still have won; Connor Wood, a Kirkcaldy boy through and through but who played for Dundee for a couple of seasons and clearly wanted the win badly, scored his second try and the Blues were camped almost under the High crossbar soon after looking for the clincher but lost the ball and the chance.
But High, almost inevitably now, fought their way up to the Glasshouse end and Josh Rutnagur – a real leader in the young team needing some veteran presence – scored his second try to level the scores again at 29-29.
The winner was the try of the match – Aitken's half-break over halfway starting the ball rolling, Farquhar again involved, Aitken somehow there as the link again and Duncan McIntyre's support line rewarded with the off-load to scamper 30 metres for the score. Keiran Scoular's conversion confirmed the final score at a barely believable 36-29.
"36 points in 50 minutes shows how much we can play," said Sangster. "Only that first 30 minutes…if we had made any kind of start we wouldn't have been in such a state.
"But we showed what we can do when we play the kind of game with tempo we're working hard to develop."
When Kirkcaldy kept it to their formidable forwards, especially a dynamic back row trio, they looked to have everything in hand.
But they were too passive in defence against High's onslaught and when Wallace was helped off they seemed to lose composure and organisation. Two points away from home is not to be sniffed at, but at 22-0 ahead they'd have expected to have taken five.
Meanwhile it's been a tough first two months of the season for a depleted Dundee, but a few wise heads are starting to make their way back to fitness to augment the squad.
Sangster got all the answers he wanted about his young team's character. And some of us who haven't witnessed quite as many as 70 years of High-Kirkcaldy tussles saw maybe the most entertaining game of rugby they'll see all season.