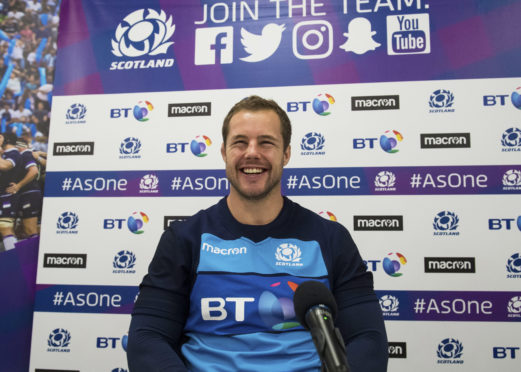 Allan Dell considered giving up rugby during last year's season-long injury nightmare but the Edinburgh prop is back and firing at almost full power ahead of the Autumn Tests.
The South-African born loose head seems the man in possession of the No 1 shirt right now, set to pack down with Edinburgh team-mates Stuart McInally – the likely captain – and WP Nel in an all-Edinburgh front row that has been in super form in the setpiece of late.
But back and groin injuries, just after he had the career high of being called up during the Lions Tour of New Zealand, had him contemplating whether he even had a future in the game.
"Frustration is definitely one of the words you'd use," said the 26-year-old. "I thought about quitting rugby at one stage, especially with the back and groin at the same time. I was in a stage where I was thinking 'am I going to carry on with rugby?'
"I couldn't do things that I'd taken for granted; just getting out of bed, even putting your socks on. "When you have pain like that you start thinking about your future, it's not something you want to live with. I'm just happy and grateful that I'm out of that."
Dell had first felt a back twinge on the flight home to New Zealand, and then when he tried to manage bulging discs he tore a groin muscle, ultimately requiring surgery on both issues. He fell back on the support of his family, and his simple love of the game.
"I also thought I'd have to go back to work on the farm, getting up at 5am, home at 8pm covered in dust and cow excrement," he joked. "But I was just 25 and thought I could have another ten years of a career, or a life thinking `what if?'
"I'd miss something I'd known my whole life. You're not going to give that up easily. You have a dark moment when your brain starts playing tricks on you but you get over it. I got the help I needed."
Dell's abilities as a mobile, modern prop were valued enough that he was brought back into the Scotland fold in the summer almost as soon as he was able, but he thinks the injury absence has changed him.
"I have definitely changed the way I play a lot," he said. "I'm not as free around the park. I have tried to adapt my game and I'm maybe not as explosive as I used to be.
"Some of it is just trying to get my speed and agility back up there. In the meantime I've just gone back to a more safer, set-piece oriented kind of style, trying to do my job around the park and make my tackles.
"Previously I wanted to get the scrum over with and get the ball in my hands. Now, I'm trying to find a balance between the two."
But having been through the mill for almost an entire season as he watched Scotland improve and others play inm his place, he has a strong perspective on what his international career is all about.
"You take it for granted when you're fit that you can get out of bed and go for a sprint or a warm up," he said.
"I appreciate it all a lot more now. Getting back into the squad gives you confidence to carry on doing what you're doing.
"When you play on the weekend or wear the jersey, these are the things you'll remember when you retire, especially representing your country against big nations – playing autumn tests, 6 nations, all those things.
"Those are the memories you will always remember and you'll forget about the hardships. Getting a chance to win a spot is what drives you."