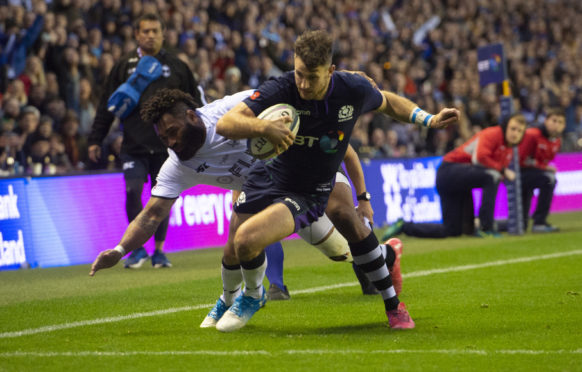 There won't be any sourness or awkward silences between room-mates Pete Horne and Tommy Seymour this week at the Scottish team camp as the wing was happy with his haul of three tries to take him closer to record breaking territory.
Horne could have given his Glasgow Warriors and Scotland colleague an easy run-in for a try in the first half of Scotland's 54-17 rout of Fiji, but opted to go himself and was caught at the line.
Scotland did score almost immediately through Fraser Brown and Seymour went on to bag the first hat-trick by a Scot at Murrayfield since Ally Hogg's three in the 2007 Rugby World Cup game against Romania.
Seymour laughed afterwards that Horne was apologising to him even before the move finished with Brown's try.
"Pete's the kind of character who is always overly critical of himself," he said. "I was in the breakdown (that followed the tackle on Horne) and Pete was on the floor already saying: "I'm sorry! I'm sorry!"
"I scored four for Glasgow against Leinster a couple of years ago but we won't get too greedy. I'm delighted with the way things went.
"So I won't be holding any grudges. He's my room-mate, so it would be a bit of sour room if I did."
Horne agreed – "It would have been rude to have scored four tries. He'll have to settle for three!"
Seymour's three tries took him to 19 for Scotland in 45 tests – one more try than his colleague Stuart Hogg, and just five away from the all-time Scotland try-scoring record shared by the legendary "Flying Scotsman" Ian Smith and 1990 Grand Slam hero Tony Stanger.
"It was mentioned in the changing room," he said. "It's always nice to get one over on Hoggy as you don't get many. But he's got a few years on me so he'll probably be able to out-do me in the long run."
The way Scotland play now has made it easier to run up try-scoring levels across the board, says Seymour.
"Under Vern (Cotter) and now Gregor (Townsend), we're playing a style that allows everyone to get their hands on the ball and score tries," he continued.
"We love doing it. Shuggie (Huw Jones) has scored a ridiculous amount, ten in just 17 games. Hoggy is also right up there. It does create competition between us, but no-one is being selfish about it.
"It's just about spreading the love and, fingers crossed, I can get a bit more love before I finish."
For Horne, it was one of his best international performances, and the Cupar man was pleased to get back in convert with Finn Russell in midfield.
"I said that to him after the game, 'I've missed you, you wee rocket'," said Horne. "I love Finn, he's great to play outside and it was great to see him back smiling and having fun.
"There are times when I come in screaming at him and he'll just turn around laugh and say 'Horney, just chill man, relax, it's fine!'
"We've played a lot of games together, be it for Glasgow or Scotland and I like to think I've got a good idea where he's going and if I can run some lines off him. I like to think we complement each other a fair bit.
"He had a great game today and there were times when he showed a really cool head. There were times in that second half when it could have got a bit harum scarum, but he made really good decisions and it was a really polished performance."
Horne was also delighted for his younger brother George to get on the pitch for his first Murrayfield test.
"I was buzzing for him," continued Horne. "At the anthem we were standing together and it got a wee bit emotional.
"I'm really proud of him. Every opportunity he gets he makes the most of, so I'm delighted for him.
"Mum and dad can enjoy it and our friends and family, but we're just focusing on a game. After the game we got a couple of photos with mum and dad. I'm sure when our careers are finished it's something we'll look back on very fondly."