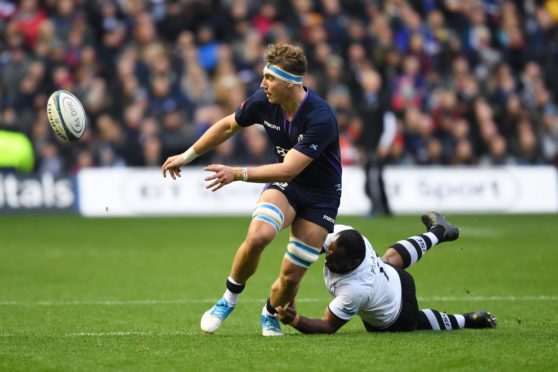 It's foolish to project too much into the future – there are still 11 international games and more than half of a full-bore club season to go – but after Scotland's 54-17 win over Fiji at BT Murrayfield on Saturday, it's tempting to do so.
Even though the little matter of the resurgent Springboks are our next visitors at EH12 and demand full attention, Scotland's depth for the Rugby World Cup next year looks to be almost astonishing. Unravelling a 31-strong squad from the candidates at this point looks like a Gordian Knot of a task.
The complications caused by happy accidents are perhaps personified by Jamie Ritchie, the 22-year-old Dundee-born flanker who was my man of the match in the eight-try romp against Fiji, even if debutant Sam Skinner was not an undeserving winner and Tommy Seymour might have been an automatic for the first Murrayfield hat-trick in 11 years.
It's fair to say that the Edinburgh backrower, who had a try in his home international debut, might have had limited chances this autumn had Magnus Bradbury or Blade Thomson not got hurt in club games shortly before the squad assembled.
But they did, and Ritchie played blindside well enough in Wales last week and had a storming game at open-side against the Fijians.
"Jamie played 6 last week and had a good game, played 7 this week and had an outstanding game," agreed head coach Gregor Townsend. "That's something that maybe we wouldn't have planned.
"There is depth there now, and we know we have to select a team this week we believe can beat South Africa.
"There's players that haven't had many caps for Scotland but are playing really well and there's a decision we have to make there for a big game like the Springboks."
Asked if he was picking his strongest available side against the South Africans, Townsend answered "Yes" without embellishment. Of course, that best team, long-term, probably doesn't include Ritchie and you'd imagine that next week Hamish Watson will be restored to the 7 shirt.
But the former Howe of Fife and Strathallan School player – one of four in the matchday squad on Saturday – has put himself squarely in the frame for future selection, and there are games very like Saturday's in the Scots' group schedule for Japan – against the hosts, for example, and likely against Samoa – where his versatility and indefatigable tackling would get him on the plane.
It's considering those matches rather than this week's against the Springboks that made Saturday's thoroughly professional and well-planned performance a success. The Scots have had issues being favourites in many matches, and 40 points without reply against a dangerous underdog opponent was much more impressive than last autumn's struggles against Samoa.
Those who might gripe about errors and that performance not being good enough for South Africa are missing the point. Errors – like lineout overthrows and missed tackles – happen and no team is perfect, not even New Zealand and certainly not South Africa, who committed 21 turnovers and missed 22 tackles against France in Paris on Saturday night.
The Scots had their wobble with two tries conceded against Fiji but righted themselves, Townsend pointing out that his back division had "100 to 150" more caps than in Cardiff a week before, and their experience came to bear.
Greig Laidlaw's influence was as usual visible in this, but so too Finn Russell's, who had a comfortable run at 10 but for one head-high tackle on him that went curiously unpunished by no more than a penalty.
The plan on Saturday was one to pressure Fiji, and they turned the screw upfront on the lack of organisation of the Islanders so a stream of penalties and the two yellow cards that effectively turned the course of the game duly followed. This will surely work against similar opposition down the road.
Of course South Africa wouldn't have wilted this way, but there is a different plan for the Springboks, and then also for Argentina, just as they were different plans for Samoa, the All Blacks and the Wallabies in successive weeks last year.
"You know what's coming from South Africa," continued Townsend. "They'll put huge pressure on your scrum, excellent lineout defence, and a huge lineout drive.
"What they do in open play, there's more nuances to it (now under new coach Rassie Erasmus) but the fundamental is them coming round the corner and running hard. They've done that since they were teenagers, it's the way they play in South Africa, and they have the biggest men in world rugby.
"This was a good test in some ways, there were some huge men in the Fijian team and we put in some really good tackles, double tackles that knocked them back. We just have to do that time and again next week."
It's a much more formidable challenge and you'd imagine that there won't be as many wide grins in the second half as there was on Saturday. But while sticking to their overall philosophy of speed, Scotland can play more than one way now, and continuing the recent Murrayfield run is well within their capabilities.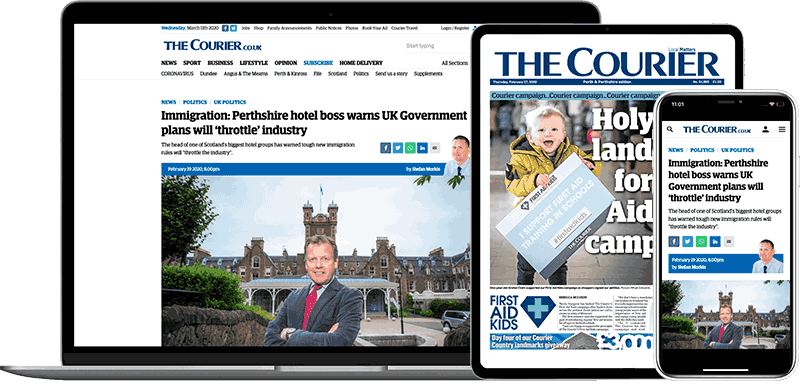 Help support quality local journalism … become a digital subscriber to The Courier
For as little as £5.99 a month you can access all of our content, including Premium articles.
Subscribe