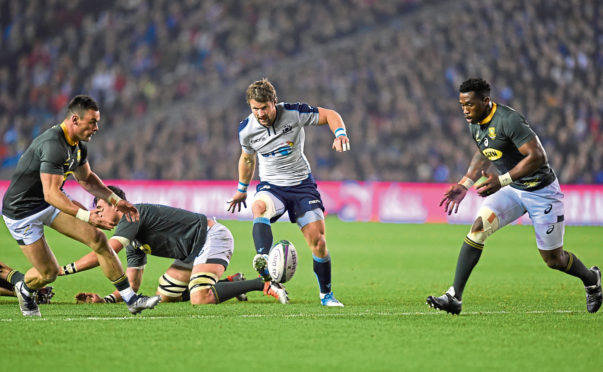 Just before the Autumn Tests got underway across Europe, World Rugby called a meeting of head coaches in Dublin to go over the annual fine-tuning of the laws.
November seems to be the governing body's chosen time to sort out the most glaring anomalies in the game's internecine regulations.
You know, when the Southern Hemisphere has just about finished its season, and the Northern is two months in. An absolutely perfect time for tinkering, I'm sure we all agree,
Well, it is what it is. This year, there were a number of announced "focus areas agreed and calibrated on" in advance of the Six Nations.
There are a number of old favourites in there…a clampdown on crooked feeds at the scrum is announced every year without fail and never acted upon, and this year has been no exception.
However the coaches at that meeting, almost without exception, have been complaining that much more than just that hardy perennial was announced and then not enacted.
We've seen no-arms tackles ignored. We've seen high tackles go unpunished. We've seen gaps closed, blatant obstruction, neck rolls and ruck-charging and not so much as a whistle.
All of those were flagged up at the meeting. In addition, coaches were given a thorough appraisal of new protocols with TV match officials (TMOs) which stipulated the return of the onus to the on-field ref to make key decisions.
Some take-charge TMOs don't appear to have got the message, however; Scotland were furious a try from Fraser Brown was chalked off after TMO intervention. It's all very confusing.
But the most blatant example of a laws drama from a Scottish perspective has been the incident in Saturday's game against South Africa, when Springbok captain Siya Kolisi was seen quite clearly to commit a "reverse" head butt on Peter Horne when they were on the ground.
Ref Romain Poite didn't see it. The TMO didn't refer to it, even though he must have seen it. Perhaps he was putting the onus on Poite as prescribed.
However the whole thing got meaty when the citing commissioner opted only to give a warning to Kolisi, citing "mitigating factors".
These were that Horne was holding Kolisi on the ground – undeniably so – and that the contact "did not meet the red card threshold" as it was conducted with "moderate force".
There has been much talk this week about this verdict blatantly conflicting with World Rugby's continuing concern with head injuries and the need to protect players, but I think that argument misses the point.
Horne wasn't likely to get a serious head injury even from a head butt of more than "moderate force". The issue is much more basic and blatant than that.
Whatever Horne is deemed to have done, illegal or not, the fact remains that Kolisi retaliated in a petulant fashion that in all other circumstances (and in most other sports) would result in a straight red card.
The mere act of a retaliatory head-butt – regardless of force – is worth the ultimate sanction on its own. Retrospectively deciding moderation (without any particular evidence) even slightly mitigates the act is what sets an unacceptable precedent.
This is a ratings-free zone
I have a problem with Chris Cusiter already given he's stolen two of my dream jobs – scrum-half for Scotland and (nowadays) running a whisky business in California. All he needs to do is go out with Winona Ryder and be able to play saxophone in the style of John Coltrane and I'll hate him forever.
But I completely agree with Chris' point on Twitter the other day complaining about newspaper (and website) man-for-man ratings. They're awful, arbitrary and often meaningless, but sadly popular with readers.
I assure you that nothing in sports journalism requires less thought and effort for as much public engagement as on-the-whistle ratings.
We did do them in The Courier for one Six Nations in the early 2010s, during which time I repeatedly and intentionally broke every accepted rule of the form in a passive-aggressive protest. And here is the point of this; there is a confession to be made.
Jim Hamilton, the former Scotland lock, replied to Chris' tweet by recalling he was once given four (out of 10) in a player rating. He accused a friend and colleague of mine and I can confirm that his recollection of rating and journo were accurate.
However, in one Calcutta Cup game at Twickenham, I actually gave big Jim a two. And Ruaridh Jackson (stand-off that day) also just two.
Obviously, they weren't that bad. They weren't terribly good either, but I was rebelling against the requirement that states nobody gets less than a four. And I really didn't want to do any more ratings.
Thankfully my petulance worked and we gave them up soon afterwards. There are still plenty who do them if you like that sort of thing, you just won't get them in The Courier. Sorry…not sorry, as I believe the young folk say these days.