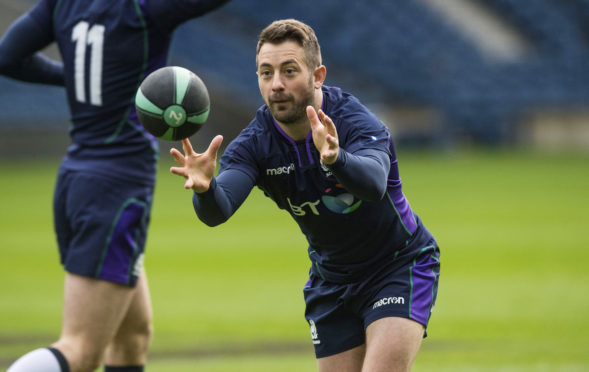 The internet concoction of captain Greig Laidlaw controlling "toddlers" Finn Russell and Adam Hastings on baby reins tickled the Scotland squad so much that they've effectively adopted it, but there's a serious business behind it all.
Internet artist and Scotland fanatic Graham Love posted the "meme" on Twitter this week making the point that Laidlaw has doubled up on his role as the Dad figure against Argentina this afternoon, keeping a check on the wilder tendencies of both the young playmakers who line-up outside him for the first time as a midfield combination.
However, the team liked the picture so much that they're using it as the permanent picture as part of their WhatsApp group, the social media app they use for in-team banter.
"Adam was actually the one who first showed me it!" said Laidlaw. "Hoggy has kindly changed the group icon on our WhatsApp to that picture, so we are getting reminded every time we check the phone now.
"It's been a bit of banter. It's down to me as well, being captain as well it is my job in implementing the game plan we have spoken about and want to put in place.
"But in the same breath I have got to give them the confidence to cut loose as well. It is such a fine line, and that is where I try and come in, make sure we don't over play and ask the questions such as, `What are we doing? What's the next play? Is that the right play?'
"We are not going to run it from everywhere, we are not playing for the Barbarians. We are playing for Scotland and want to play a fast brand of rugby, but that is a controlled game as well."
The other aspect is that Russell, with the experience of nearly 40 caps, has to help Hastings as much as Laidlaw does.
"We want to push Adam on and make him a leader," continued the captain. "With him playing in the 10 position he will be vitally important tomorrow afternoon.
"I think Finn will be tremendous for Adam, to be honest. Finn has a little bit more time and space to pick up his head and hopefully see some opportunities. He's a really good communicator as well – that's one of his great strengths – so he'll feed that in, make Adam's job as easy as possible, so he can just get out there and play rugby."
The option of Laidlaw going to 10 – which helped turn around the games against France and Italy this year – has been effectively ditched "unless things go pretty wrong" added the skipper, so it's all on the shoulders of Hastings and Russell.
"I'm really looking forward to Finn playing at 12, and he gives us a string kicking option out there as well," added the skipper. "He's is at a good point in his career. He understands at this level when to run, when to kick, when to push forward and when to hold back and say: 'this doesn't feel right.'
"Adam's going to be his own man, definitely. I've said that to him this week: 'Don't get caught up in the occasion.' But I know he won't – he'll just get out there and express himself."
Scotland need to get the midfield duo the ball to supply the strike capability of Hogg, Huw Jones, Sean Maitland and Blair Kinghorn, and that'll need a more forceful presence at the breakdown than they had against South Africa, where attacking opportunities dried up in the second half.
"We had a good look at that area of our game," said defence coach Matt Taylor.
"You have to give credit to South Africa as they had big men and they hunted hard with two guys at the breakdown. "We were just a little bit slow to win races over the ball.
"We've had a big emphasis in that area. A few years ago Argentina went hard at our breakdown here, so that's something that could happen and we've prepared really well for it."
The squad have also worked hard on Argentina's midfield attack against the new combination, but Taylor has no fears about their ability.
"We've kind of changed our system slightly in this series, so Finn hasn't been in the front line as much anyway, but his one on one tackling has been pretty good. I think he made 100 per cent of his tackles against South Africa, which is pretty good.
"I'm expecting him to have to make a few tackles. But, when Finn's right on his game defensively, he does really well."