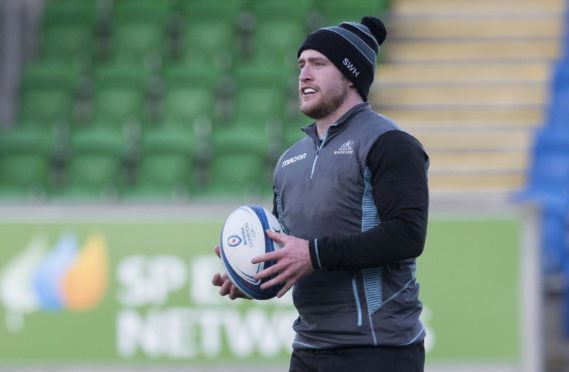 Stuart Hogg may be Scottish rugby's superstar but he still feels he has something to prove in his last few months at the Glasgow Warriors and specifically to coach Dave Rennie.
The full-back has cleared the decks with his early announcement he will leave the Warriors after nine years and head to Exeter Chiefs in the summer but is focused on producing for Glasgow in the Heineken  Champions' Cup and in the Guinness PRO14.
However, he admits that injuries over the last 18 months mean he hasn't fulfilled what he would like since Rennie took over at Scotstoun.
"Really, I'm just looking forward to playing a bit more for Glasgow," he said, ahead of Saturday's visit to Lyon. "It has been a frustrating old year and a half and I think I have only played something like nine games since Dave came in.
"I don't feel that I've shown Dave what I am all about and I really want to put my stamp on the Glasgow jersey in these last few months. It has been a frustrating time but I am excited to be back and I am ready to rock and roll starting in Lyon.
"I want to leave Glasgow on a real high but it is not about me and personal accolades, it's about the team getting to the best possible stage we can, and I want to play my part in that."
Those recent injuries – Hogg went virtually unharmed through the first six otr seven years of his pro career – has changed his approach and attitude, he added.
"I have learned a lot about my body in the last year and a half," he said. "A fractured eye socket, shoulder reconstruction, tore a muscle in my abs, the ankle, it's been lots of different things.
"This is my tenth year involved in professional rugby, my ninth at Glasgow. I am fully aware of what lies ahead and I can't go out and drop goals for fun like I used to.
"But I know more about my body, what has to be done before and after training and I try to look after myself in the best possible way I can. If you don't do that you won't be playing rugby here."
Hogg missed the opening two European rounds which saw the Warriors lose at home to Saracens but bounce back with a bonus point victory away to Cardiff Blues, and the doubleheader with Lyon over the next two weeks is crucial to their hopes of making the quarter-finals for only the second time.
"If we can go two from two over the next couple of weeks against Lyon we will be in a much better place than we are now," he continued. "We are dying to qualify from Europe but we have to beat Lyon twice to help make that happen.
"Lyon have a big physical pack with some cracking players out wide. Defensively we have to get in their faces and put them down at the quickest opportunity. We have to make the most of our attacks and we finish off the majority of our line breaks.
"If we stand back and admire them it will be a long day for us. They are full of top class individuals.
"Nothing will be given to us cheaply. We will have to work for every single point and we are aware of the challenges ahead."
Head coach Rennie knows what a weapon he has in Hogg, even though there's a bit of banter between the pair about how few times the full-back has played.
"I tease him a lot because he played about two games this year and about six last year, so he's on about a million dollars per game at the moment," joked Rennie.
"He's a fantastic player, as we know. He's really passionate about playing for his club, and we're keen to get him out there as often as we can.
"To his credit, he came straight out of injury into the internationals and he played really well. We'll obviously hope to get him a bit of ball but even his ability to kick for field position is massive so he's a pretty special player."
He has no fears about Hogg's application in his last few months even with the big career move looming.
"I think it is often easier when guys make up their mind early," added the coach. "They stop stressing about what next year looks like and can just focus on doing a good job now.
"He's been here a lot of years, he's got a lot of mates here and he's desperate to go out on a high noted, so we're more than comfortable. It is not a situation of us thinking about him leaving so promoting other guys to look to the future – we've got a world class layer in Hoggy and we're looking to use him."