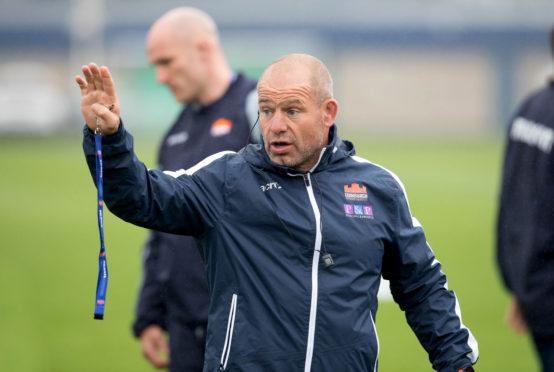 They're defending champions, have home advantage where they're unbeaten in all competitions this season, and have just won a European doubleheader to top their Heineken Cup pool, but Richard Cockerill steadfastly refuses to let go of Edinburgh's underdog tag for the 1872 Cup.
Even the suggestion that Edinburgh's structured style of power rugby might just be the perfect antidote to Glasgow's free-flowing, tempo-based game doesn't shift the coach of the capital side ahead of the first of the three legs of the domestic battle beginning at Murrayfield this weekend.
"We're definitely underdogs," he claimed. "Their league form has been outstanding, they make the most linebreaks in the league, they're scoring over four tries a game on average, so they're a very good side, aren't they?
"Glasgow are in great form and they and Leinster are probably the best two sides in the competition.
"We have a certain way of playing, we control territory and we like to put teams under pressure. When they have the ball, we've got to put them under pressure this weekend, if we let them play free rein, they'll hurt us."
Edinburgh's PRO14 form hasn't quite matched their European success, crowned at the weekend by taking a commanding four point lead two-thirds through their pool campaign by winning both legs against Newcastle in the last fortnight.
And that's pretty familiar from the situation last year, when Glasgow came in unbeaten in the league, Edinburgh had Simon Berghan sent off within the first five minutes, yet won an unlikely triumph by virtue of Chris Dean's try on the final play of the game.
"I've learned very quickly that the derby games are very different games, form sort of goes out the window, and that they're very much one-off occasions in their own right," continued Cockerill. "Those two wins against Glasgow were good for us last year to get the 1872 Cup, but very much like last year we're more interested in the league points than bragging rights.
"The games we played against them last year were all very tight affairs, and we've got to replicate that. They're probably playing even better than they did last year to be fair, and from a league point of view we're a little bit behind where we were last year."
The clash of styles between the two teams made for interesting viewing for a crowd that should be well in excess of 20,000 this weekend.
"Where we are developing our team is not as far along the same route as them, but we feel we have a strong setpiece and we're a very combative team, and we feel if we get our game right we compete with anybody," added Cockerill.
"I'm not sure we're a team that's set up to run away with games, but we're certainly a team that can stay in the battle, stay in games and know how to win.
"They'll want to come and play how they play, which is pretty free-flowing, but also they'll want to prove a point around their physicality and forward pack as well."
Edinburgh are likely to field their strongest available XV in both games, having rested all their international players the week after the November tests. Jamie Ritchie could return from missing last week's trip to Newcastle with a quad injury, but there is no return yet for Matt Scott.
Scotland captain John Barclay, who has missed the entire season so far due to an achilles tendon rupture, is slated to return to action at the end of January, added Cockerill.