Rob Harley will stretch his appearance record for the Glasgow Warriors past 200 games when he plays against Cardiff Blues in the Heineken Champions' Cup this Sunday, so a mere three-game losing streak is nothing to get worried about.
Harley has seen all the highs and the lows, a native Weegie who has become a fixture in his home town team, and nothing has been as bad as his first season with the club.
"My first season was very hard, we finished second bottom in the league and we lost an awful lot," he recalled. "It was hard to come into that. We were training everywhere, at Whitecraigs and all over the city, not like today where we have a dedicated facility.
"As a squad we kind of looked at that and we said, 'we are just not doing what we have to do. We have to make a massive change in order to achieve things'. Fortunately since then we have found our legs."
In 2015, of course, it came full circle with the PRO12 title win at the Kingspan Stadium in Belfast, scoring the first try in the victory over Munster to boot.
"I think it was one of those those games everything went well for us. We played great defence, and Naksi (Leone Nakarawa) was absolutely electric.
"People say that I scored but really, he beat about six defenders and passed the ball to me to fall over the line."
Harley was also involved in the run to the Heineken Cup quarter-finals two years ago, and the Warriors are hungry to do it again.
"It is a big milestone and a measure of achievement, being one of the best clubs in Europe, and that drives us to go on," he said. We have a chance this year to (qualify) so it is a driver for us.
"We have not played very well in the last few league games so that gives us a challenge of finding form again I guess. But it's reassuring that we have that European success under our belt so it's definitely achievable for us, it's just sorting out small details and making sure that we return and put that into a good performance at Scotstoun."
Realising where they are – still near the top of their PRO14 conference and possibly a bonus point win away from the quarter-finals – despite the recent losses should build confidence, he believes.
"I think there is frustration at the way we have played the last few weeks, and we know there is a lot of work to do and how we have got to improve," he continued, "But we are in a good position in Europe and the last eight is within reach for us, and on Sunday we are going to try and bring that out."
He was amused at assistant coach Kenny Murray calling for some of the Glasgow gang attitude in defence, but the Bearsden Boy doesn't have that much experience of that side of the city's past.
"Actually, one of our physios sent me an article last week about how Glasgow turned it around from the British capital of knife crime to being the safest city in the country within a few years," he said.
"I am not sure the gang mentality represents the city as a whole anymore. What Kenny is saying is that we all protect each other and have each other's backs, hunting as a pack.
"That is what we are trying to get from our defence, that we are ferocious and that we all work together."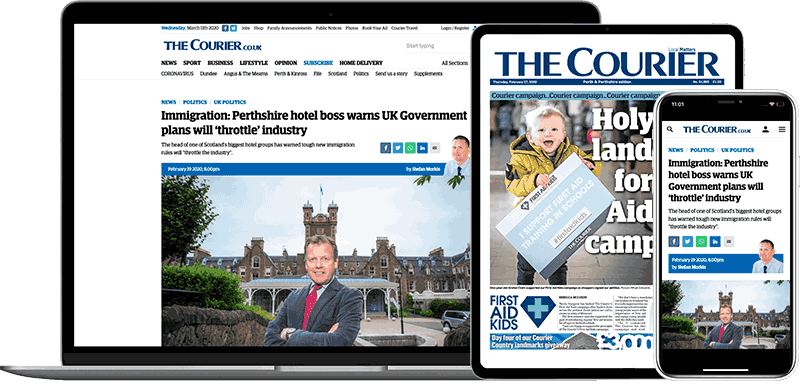 Help support quality local journalism … become a digital subscriber to The Courier
For as little as £5.99 a month you can access all of our content, including Premium articles.
Subscribe