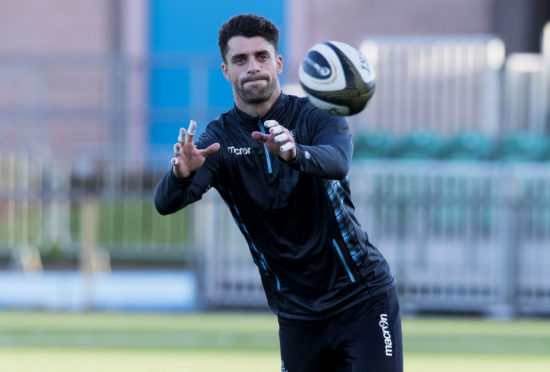 Adam Hastings has been tossed back in among the wolves as Glasgow seek to upset former champions Saracens and win a home quarter-final in the Heineken Champions' Cup at Allianz Park.
The self-styled "Wolfpack" will be the opposition for the young stand-off, who was dropped to the bench last week against Cardiff after a difficult spell, but head coach Dave Rennie is confident that he's ready to return to his best in one of the toughest arenas in club rugby.
And the Warriors didn't even discuss whether their Scottish rivals were going to do them a favour last night, content to focus completely on a win, qualification under their own speed and an unlikely home quarter-final of their own.
"We want to put out our best available team, and Adam's been our best 10 throughout the season," said Rennie. "He's been working hard on the areas he needed to make some shifts in, and we think he's ready to go.
"We haven't discussed (Edinburgh) at all. Clearly we're aware of it but our minds have just been on our destiny being in our own hands.
"We can't afford to be relying on others and there's lots of permutations in there. We'd expect Ulster to win this week, Toulouse to win this week, so really we've got to do the job ourselves and that's been our focus.
"We're going to have to be at our best against a strong Saracens side. We're excited about that and if we can get a quarter-final at home it would be fantastic."
Injuries to Callum Gibbins and Matt Fagerson – the 20-year-old faces an "extended absence" having suffered a shoulder injury last week – already meant a reshuffle of the pack but Rennie wanted his most abrasive, edgier players – Tim Swinson, Rob Harley, Chris Fusaro and Ryan Wilson – out there for what promises to be another niggly tussle between the sides.
"I'd imagine the referee will want to take control of this one a lot quicker than October, but both teams will want to make a bit of a statement.
"I think it's up to the ref to make sure that he keeps control of that sort of stuff, so we'll play within that. It will be a pretty brutal affair like it was last time, so we have to make sure we really steel up for it. We expect it to be pretty hostile in the first 20 minutes."
For Wilson, left out of two key games in December, the reaction has been as strong as Rennie wanted it.
"Ryan was left out mainly for a lack of impact defensively and a lot of that was about his body height," explained Rennie. "To his credit he has worked really hard and done a lot of work on dominance around the tackle and chop. I think he has been excellent for the past two or three weeks.
"It's just a reminder to the guys that it doesn't matter whether you're the skipper or not, there is competition for places. To his credit, he's made good shifts and that will be really important for us tomorrow."
Wilson thought that the last time Glasgow went to Allianz Park – in the quarter-finals two seasons ago – the Warriors spent too much time before the game considering what Saracens would do, an Rennie concurs.
"We've done our due diligence on the opposition, but there is a big focus on us and what we know we need to do. We have a good understanding of the enemy but we need to be at our best.
"Last week against Cardiff was a good step up. I thought we were really strong up front and that's important in big games.
"We'll have to scrum well, maul well, and what I liked about last week was that we were patient. We build pressure and the pressure told in the end."
Glasgow team: Stuart Hogg; Tommy Seymour, Nick Grigg, Sam Johnson, DTH van der Merwe; Adam Hastings, Ali Price; Oli Kebble, Grant Stewart, Siua Halanukonuka; Tim Swinson, Jonny Gray; Rob Harley, Chris Fusaro, Ryan Wilson. Replacements: Kevin Bryce, Alex Allan, D'Arcy Rae, Adam Ashe, Matt Smith, George Horne, Huw Jones, Niko Matawalu.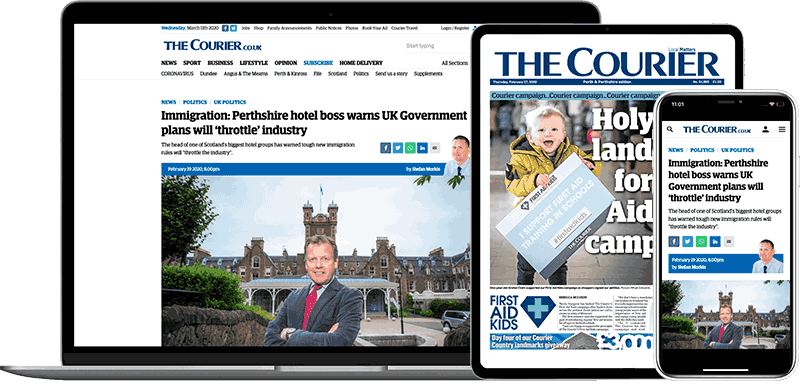 Help support quality local journalism … become a digital subscriber to The Courier
For as little as £5.99 a month you can access all of our content, including Premium articles.
Subscribe