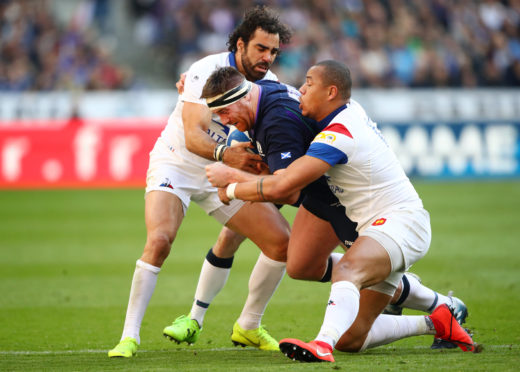 On the face of it, Scotland's injury crisis exposed the talent deficit that resulted in Saturday's 27-10 loss to France in Paris, Scotland's 11th defeat in a row at the Stade de France.
It's not so much the numbers missing, although there's plenty of them, it's the quality of the absentees. Without their three biggest strike weapons on Saturday, surely Scotland were bound to struggle to make an offensive impact?
But although Scotland unquestionably missed Finn Russell, Stuart Hogg and Huw Jones, and as much as they have missed John Barclay this entire championship season, or Hamish Watson during the 6 Nations, the underlying feeling at the Stade de France was much more concerning.
In truth, this game was very much like the Wales game to start last year's championship, when Scotland had a full complement to pick from and misfired completely, in the end lucky to get away from Cardiff with a 34-7 loss.
Wales then (and now as well) are a far better team than a fragile France were on Saturday, yet in Paris Scotland were very fortunate not to get a real howking with four tries denied to France by the TMO on top of the four that were scored.
The French should have been vulnerable, with novice half-backs, players still selected out of position and the scrutiny of a nation starting to sour on them. But they weren't put under pressure at any time, and specifically when Scotland somehow reached half-time only 10-3 in arrears when 20-3 wouldn't have adequately reflected France's superiority.
This was the time the Scots, kicking the restart deep to pin the French back, should have turned the screw and made France's annoyance at not taking all their chances turn into doubt.
Instead the French mauled and then broke out through the 20-year-old prop Demba Mamba and their excellent new scrum-half Antoine Dupont. 45 seconds later, with a Mathieu Bastareaud chip and catch as embellishment, Yoann Huget weaved across for the score which restored France's momentum and destroyed any Scotland hoped to create.
It's this rabbit-in-headlights problem that seems to consume the Scots at times when they're away from Murrayfield in the championship – Twickenham two years ago, Cardiff and Dublin last year, now Paris this. Players deny that there is a fear factor about playing away games in the 6 Nations but it's the only obvious explanation for something that re-occurs time and again.
Scotland did miss their big guns, and the strength in depth in the squad to handle the injury issues is still not adequate.
Gregor Townsend was reduced to picking players for specific roles because of how they'd impressed playing for their clubs in the fallow week, when Glasgow beat a Cardiff Blues second XV and Edinburgh were beating up the hapless Dragons.
But those picked, if they gelled, were surely still adequate to at least challenge a French team that just needed a nudge to become even more neurotic after their Twickenham nightmare. From the moment the strains of La Marseillaise died, Scotland were passive and hesitant.
Townsend is supposed to be a gambler, but his selection was pretty conservative for this game, notably in asking Pete Horne to fill in at 10 when they seemed to have been grooming Adam Hastings as Russell's deputy or rival.
Hastings came on and made an impact with Horne in his better slot at 12 in the second half, although as Townsend said later, that may have been the player or it may have been the circumstances of the game starting to loosen up.
But it seemed a missed opportunity not to have given the reins on Saturday to the 22-year-old, even if only to get him some more valuable experience in a cauldron such as Paris. It also seems – and I admit to changing my mind on this – increasingly like a missed opportunity not to give chances to the likes of Darcy Graham, who was a buzzbomb when he got on the field.
Townsend has been rewarded this season with Jamie Ritchie's advance, although the player has seized an opportunity resulting from the injury list. The coach seems loathe to make the decision to gamble on youth unless he's forced to.
And it's not as if the senior players are doing the job anyway. Jonny Gray was hooked early, and hasn't looked himself all season, possibly as a result of this "managed" shoulder problem he's had.
Greig Laidlaw was thoroughly upstaged by his young opposite number and again his speed of service will come under close attention. That is an issue Scotland have to deal with if they don't want to lose Laidlaw's game management skills, although they were not much use to the team on Saturday.
Scotland will definitely be better at Murrayfield against Wales, and it's not a complete fantasy to suggest they might upset the odds.
But even when they have all their big guns fit, Townsend's team are a long way from being the finished article of a team that can win away at the big venues in the 6 Nations, and there doesn't seem an obvious solution to that problem.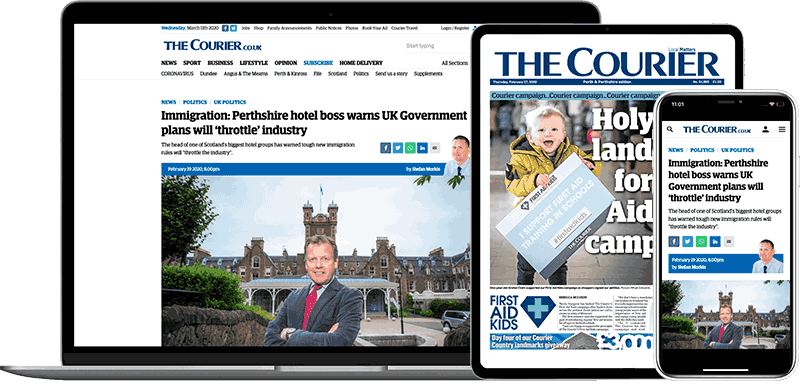 Help support quality local journalism … become a digital subscriber to The Courier
For as little as £5.99 a month you can access all of our content, including Premium articles.
Subscribe