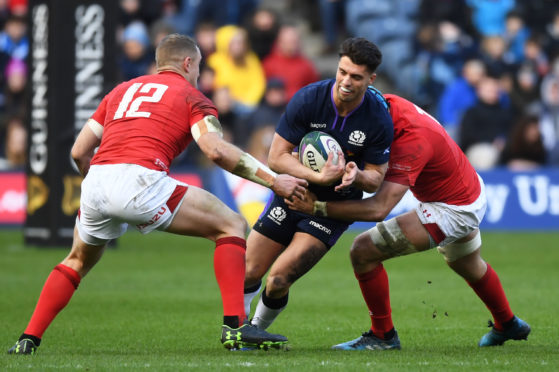 Adam Hastings "has no demons" at Twickenham and believes that a winning performance there would make a huge statement about the Scotland team.
The son of former Scotland captain Gavin said he would love to take the 15 shirt his father wore in the final Guinness 6 Nations match against England, if he's pressed into action there after injuries to both Stuart Hogg and Blair Kinghorn.
Hogg has been given every chance to make his return from the shoulder injury suffered against Ireland for this specific game but head coach Gregor Townsend was noticeably downbeat when asked about the full-back's prospects in the aftermath of the 18-11 loss to Wales.
Saturday's starter Kinghorn limped off with an ankle injury meaning that Hastings had to come on but he did a fine job at the position, supplying the scoring pass for Darcy Graham's try and nearly scoring himself but for a last gasp tackle by Dan Biggar.
"I've played full back quite a number of times, but I don't ever look at what my dad did," he said. "
"I would love to play there at Twickenham. I love playing for Scotland and I wouldn't shy away from it.
"It helps if you have two good wingers that can make you feel pretty comfortable in terms of my position, and I'd be looking forward to it, to be honest.
"I've not got any demons there, and that's a good thing. I think it's a great challenge. Where would be better to win than down there, against that team? We're really up for it.
"And that's maybe what's good about this young squad, that we're a brave bunch and we're not scared of these big teams. We'll look to go down there and get a win.
"It would be a massive statement about this team. 'We've been there or thereabouts in every game we've played in this Six Nations, even when we've lost."
Hastings said the team felt "a bit hard done by" after the loss Wales.
"We scored our try and we were just hoping for the same, just wear them down, I guess. I felt we probably could have helped Finn (Russell) out a bit more in that last 20 minutes, so I'm a bit disappointed there.
"'I think we can just take our chances earlier. There are chances to go – but we're just slowing it down for that half second, then the chance is gone. When we see those opportunities, we have to take them with both hands."
The plan was to hopefully have Hogg ready to return at Twickenham but Townsend didn't appear too hopeful.
"If he's not able to do full training and come through full training then we wouldn't select him," said the head coach.
"He's shown in the past that he can recover well and has proved that he is able to play after a break, but currently he's not able to do full training so things will have to change over the next two days for us to consider him for selection.
"We've been liaising with Stuart and the Glasgow medics to see how he's doing so we'll get another update over the weekend."
Hastings was definitely an option for Twickenham, he added, with Kinghorn, Tommy Seymour, Darcy Graham and Byron McGuigan all picking up injuries to add to those already out.
"Adam was very good at 15, and he would come into consideration by us for that role after the way he played today," he continued. "Byron played very well too, and has played for us in really good games for us in the past, so we'll see how he is with his rib injury.
"Darcy in his first start was outstanding. Players come in and grab opportunities, so if it means we have to select different players next week then I'm sure then I'm sure they'll do the same."
Townsend added that Saturday's performance "did feel much closer to who we are the the rugby we aspire to play, and probably our best performance of the season."
"We have looked at more players in this campaign than we planned to and those players, from today's evidence, have done very well.
"There are a lot of positives to build on. We know that we're going to have to play very well to win next week so that is the number one goal, with new players coming into the group if there are more injuries."