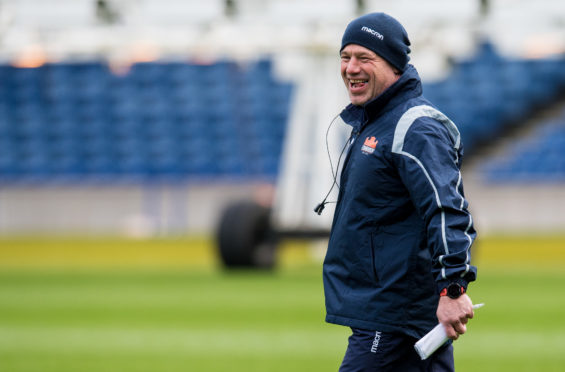 Eighteen quarter-final appearances against just three is a measurement of how big a shock it would be for Edinburgh to overcome Munster in their Heineken Cup quarter-final, believes Richard Cockerill.
The capital club's head coach has made it a recurring theme to downplay his team's chances in their big games in Europe, and he wasn't for changing tack with the twice European champions due at BT Murrayfield on Saturday in front of a predicted 40,000-plus crowd.
However, this is not an opportunity that Cockerill or the team want to let pass them by.
"We have knocked off some big European teams and Munster are a big European team," he said.
"This is the 18th time they have been in the knock out stages. This is the third we have been here.
"They have won it twice and will have ambitions of being European champions. We are still a team that is growing.
"Are we expected and do we have ambitions to win in Europe? No we don't, because we are not a good enough side.
"But we are building on that. I don't want to give this opportunity away. I don't want to be satisfied with thinking we have got to the quarters, we have done well."
With their European pedigree and the expectation of their support, the majority of the pressure is on Munster, believes Cockerill, but there is some on Edinburgh as well.
"I don't there think is the pressure that we have to win but there is pressure that if we want to develop we have to start performing in these games," he said.
"Last year we were in a Challenge Cup quarter-final and we weren't good enough. In hindsight it's all Newcastle haven't been great this season, Toulon haven't been good and Montpellier aren't very good. I suppose Glasgow have been quite good and we beat them twice.
"But we're a good side and we're probably set up for knockout rugby more than week-in, week-out at the moment. Our setpiece is good, tactically we'll be smart and if we get it right, we can beat anybody.
"We'll learn a lot about ourselves at the weekend. I'm putting pressure on us to perform and play at our best. If we do that we'll be somewhere close, won't we?"
Edinburgh will have virtually a full complement to pick from for the first time this season with Grant Gilchrist and skipper Stuart McInally returninmg from a week's rest after the Six Nations, while Ben Toolis has recovered from the knock that meant he had to leave early against Leinster last Friday.
The back row combination, an area where he was forced to mix and match for much of the year, has become a happy selection problem for Cockerill.
"We've got six guys to fit into three spots, and they're all very good players," he said. "It means we'll have a very good starting team and good impact off the bench, which we haven't had for a little while, and some quality on the bench that will make a real difference to us.
"It's a little bit of balance, with Bill (Mata), and Watson, Bradbury, Barclay, Ritchie there, they're all slightly different. You know Bill will carry the ball lots, but he won't tackle much, so there's a few combinations there.
"John Barclay did well last week, his experience is important, so it's whether he's done enough to get in the team this week."