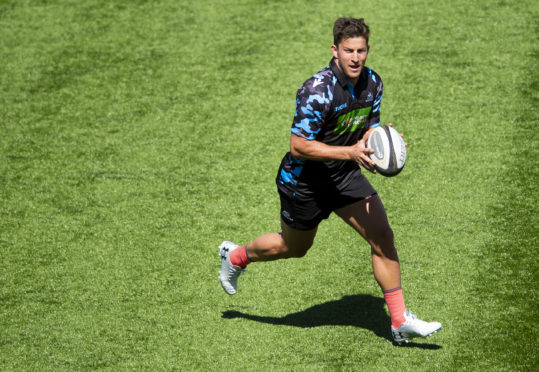 The thought of sitting in the stands again as Glasgow played in a Guinness PRO14 final was enough to help fan favourite DTH van der Merwe "smash his rehab" and get back into contention for a semi-final game.
The Canadian wing, who has the most tries in club history, cherishes his two winners' medals and specifically the 2015 victory with the Warriors, when he scored the second try of the final in Belfast against Munster.
He also won with the Scarlets but it's the memory of sitting in the stands at the RDS in 2014 as Glasgow lost to Leinster that drove him to make a comeback from what seemed to be a season-ending shoulder injury.
He's in with a chance of even starting Friday's semi-final game against Ulster but that injury, in the European pool game with Saracens in January, was devastating at the time.
"It was tough to take so I went away for a couple of weeks with the family trying to clear my head," he said. "I didn't think it was that much at the time, I finished the game, but then they said `no, we've got to fix your shoulder'.
"After the surgery, and I've had a few of them now, I promised myself I was going to do everything I could to try and get back this season. Just smash my rehab, but they all said there was no chance."
He felt better than he was supposed to early in his rehab and when the surgeon told him he shouldn't be held back, he went for it. The wing could have even returned for the Edinburgh game two weeks ago but a further two weeks of prep was a "no-brainer".
"Every time I had a check-up, I was told I could push myself further and pretty much eight weeks after post-op, I knew my target was this semi-final," he said. "Obviously the guys still had to make it then, but I needed an early goal.
"The return-to-play guys train harder than the guys on the field. There's not a day go by that we don't do skills, all kind of crazy-catch stuff to keep your eye in and that will help me transition to the field.
"I've been training with the team now for three weeks so it's been easy to integrate. With this time off we've had, you get your match fitness with the training and stuff. I'm fit and ready to go."
Driving van der Merwe was the thought that there might not be that many chances left for him.
"That's exactly it, it gives me goosebumps thinking about it now," he said. "It means so much to me, you want to be part of the big games, part of something special that can happen here.
"I've gone to a final and sat in the stands against Leinster  in 2014) and it's really tough. You still feel tight with the boys and you deserve your winner's medal if they get it, but there's nothing better than being in the field."
The final victory in 2015 meant more than the famous try to help clinch the semi-final against Ulster at the death that year, and van der Merwe feels a similar vibe at Scotstoun this year.
"I think that season we had a lot of confidence in the squad, if you look back at the games we played that season you always felt it doesn't matter if we're a down a few points, we can always come back and win the game," he recalled.
"It's a similar feeling right now. We've been playing some good rugby, probably better rugby than we were playing in 2015. Then we had the flair from Niko (Matawalu) and Leone (Nakarawa), they created a lot of stuff, but now we have a whole squad of guys who can put their hands up for selection.
"Everyone in the league's  getting better as well. So we have to keep competing as a squad and bring in the right type of guys to add to your team, and that's what we've done with Adam Hastings now leading the attack."