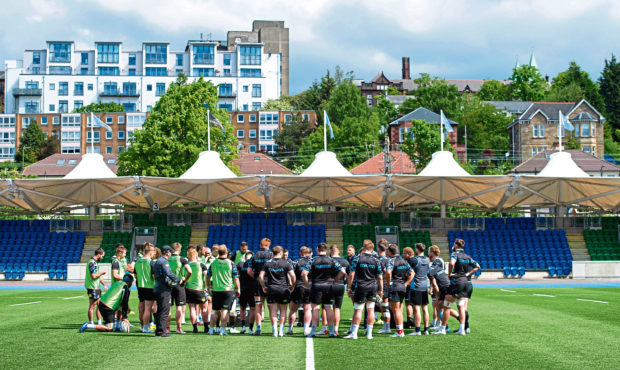 Saturday's Guinness PRO14 Final at Celtic Park marks – mercifully – the end of the 2018-19 rugby season.
Actually, Glasgow's run to the Grand Final has been a restorative elixir, and will determine whether the last nine months have been a step forward for Scottish rugby.
It's been an odd campaign. I haven't quite had the feeling of impending doom in directly comparable seasons of even the recent past.
2015, for example. That season Scotland crashed from relative optimism in Vern Cotter's first season to a 6 Nations whitewash and wooden spoon in what seemed a spiralling calamity with the World Cup in England looming on the horizon.
Glasgow tail-ended the season with their long-awaited PRO12 title, and the manner of their victory in the final in Belfast over Munster re-invigorated the Scottish game.
Five months later, only a referee's marginal judgement call prevented Scotland from reaching a RWC semi-finals against Argentina.
In 2018-19, Scotland haven't hit the levels of despair of the spring of 2015, but it was pretty close. In the first 40 minutes at Twickenham in March, the whole thing looked like unravelling in potentially terminal fashion.
One win against Italy and the draw salvaged in unprecedented fashion against England gave us something to cling to. Both pro teams reaching the quarter-finals of Europe served as a filip, although both ultimately lost.
Glasgow's final at Celtic Park against Leinster just about puts us over the tipping point at what is a successful season for the Scottish game. But only if they win.
It's tough to assess Leinster at this advanced stage of the season. They're always formidable up to a point, but only once since the 6 Nations have they fired all their guns – the rout of Toulouse in their Heineken Cup semi-final.
The Dubliners have always had a lot more to them than Munster. But in the last few weeks they've looked like a blue version of their perennial rivals; all box-kicks and thunderous collisions.
It's a sign of their quality that Munster dictated the style and pace of the PRO14 semi at the weekend but Leinster won ultimately with some comfort.
They're certainly the only team in the league to match Glasgow in terms of running rugby, and quite capable of adapting from last week's arm-wrestle into a free-flowing, free-scoring game if the occasion desires.
But I don't think there's any question which team of the finalists looks fresher, even allowing for Ulster's porous defence last Friday. The number of handling errors at the RDS underlined the gruelling – and heroic, considering the standards requiring to be maintained- nature of Leinster's efforts in 2018-19.
They can rouse themselves for one last push, for sure. But I suspect Glasgow, playing in their home city, have enough wind in their sails now.
It's actually vital for Scottish Rugby that they do. This is a flagship occasion that can paper over the cracks of a less-than-successful season overall.
Like 2015, it's a huge opportunity to send the top players to RWC summer camp with a spring in their steps.
A tough Steyn to shift
Dave Rennie, the Glasgow head coach, put the sudden rise of Kyle Steyn in the Glasgow midfield into a little context this week.
There's been some suggestion that the South African-born, Scottish-qualified centre has been a Cinderella man; an afterthought called up to cover for injuries who has seized his chance and now may even go to the World Cup.
Not quite, said Rennie. They always thought highly of Steyn once they identified him playing for Gruiqas, and the plan was always to assimilate him in the second half of this season once he'd played a bit of 7s.
He's assimilated a lot quicker than they thought, Dave conceded. But they're not shocked or surprised.
"He has been outstanding," said Rennie. "He is a real glue. We have lots of X factor in our backline, Kyle is very accurate, He distributes well, has a kicking game, powerful runner, an accurate defender. He has slotted in really well."
This is everything they saw in him playing in South Africa, said Rennie. The "bonus" is that he's been able to do as well in higher company.
Steyn's also now surely unshiftable from the 13 jersey for this week, no matter if Nick Grigg is available again and Huw Jones is probably up to full speed for the first time all season.
A pointless conspiracy theory
You'd have thought the 50-20 scoreline would be enough to exonerate John Lacey from scrutiny for being a non-neutral ref in last week's semi. But no.
Lacey's not my favourite ref by any means, but he's usually competent and always consistent. So is George Clancy, despite what you may hear from prominent pundits.
The reason why we have so many Irish refs and this situation even arises is not because of some pro-Irish conspiracy but that the SRU have been so dreadful at refereeing development for nearly 20 years.
Mike Adamson is a welcome addition. But we need many more.