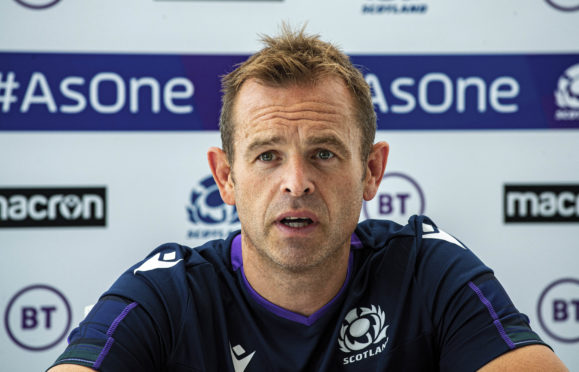 Danny Wilson's looking forward to the end of the "nice fluffy time" in Scotland's World Cup preparations when players can start knocking lumps out of each other.
The forwards coach is revelling in having the complete attention of a full and fully-fit squad for the first time after he took over the reins from Dan McFarland at the start of last season, and the opportunity to put his stamp on them.
However the phoney war of the first few weeks of training camp preparing for Japan is about to end, selection will matter very soon and the coaches can't wait to get their teeth into live data.
"It makes a huge difference to have this extra time," said Wilson, speaking at the latest venue for the Scots at St Andrews. "If you get a week before a test match you're trying to ram a huge amount into a limited time.
"This is like a club pre-season, there's a chance to work on finer detail, on individuals as well as tactics."
Having the players who were not available due to the injury problems of the 6 Nations has also been a huge bonus, he added.
"It's been well documented that during the 6 Nations we had a different group in terms of the injuries we had, but now we have the likes of John Barclay back into the squad, and a chance to work with these guys and see a healthy squad that we didn't have during the 6 Nations.
"It's been good for me to build relationships and spend more time in their company, and of course more time on the training period. We're in that nice fluffy time when everyone's getting on really well because there's no selection, but that's just around the corner for us."
That will signal a ramp up of intensity as the warm-up games against France and Georgia – home and away to both – get closer.
"I'm seeing a Scotland squad that – touch wood – is all fit I'm seeing lots of competition for places and we're now moving into a physical part of our training," he said.
"Genuinely there's places up for grabs. The bonus of 6 Nations is that players got opportunities off the back of injuries but those players took those opportunities. That gives a real selection headache when players come back fit.
"In addition, travelling so far away you're restricted by distance and some tight turnarounds between matches, and you need to have the flexibility of players who can play more than one position, and to know where your worst case scenario is.
"You can only take a certain number and 31 is a small number, really. We've got some really tough decisions and just a few weeks now to make them."
Scotland will attempt to play their way, but a need to adapt could be important with four very different teams to play in the pool stages, he added.
"In the 6 Nations we were No 1 on our own ball but sometimes under pressure on opposition ball," he pointed out. "Similarly at lineout our own ball was good and we were effective in attack and defence of the drive, but possibly that affected our ability to steal the ball in the air,.
"We need a balance moving forward. Scotland has its own identity of play at the moment and it's a very exciting one, our attacking stats during the 6 Nations that side of our game was pretty high in terms of delivery.
"But there are other areas we need to improve upon. The 6 Nations showed that rugby can be a game of chess and sometimes you have to employ slightly different tactics to be successful depending on who you're playing against.
"We didn't always get that right in the 6 Nations but it's a big learning curve for the guys who had the opportunities and I'm sure we'll be all the better for that when the World Cup starts."