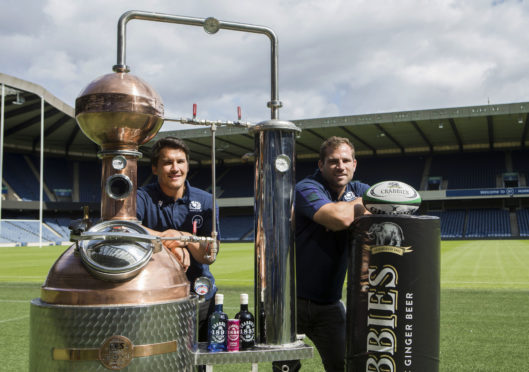 Sam Johnston had Adam Hastings as "my little servant" for a spell in Scotland camp after an accidental collision but the Glasgow centre's World Cup involvement in brief doubt, but the Twickenham hero should make the plane to Japan easily.
Johnston trod on Hastings' foot during a session at St Andrews two weeks ago and rolled over his right ankle, so far – touch wood – the only significant training injury suffered by the Scots since they've been in summer camp.
It means that Johnson, scorer of the thrilling go-ahead try in Scotland's miracle comeback against England in the 6 Nations, won't be considered for either of the two tests against France on successive weeks, the first of which is this Saturday night on the French Riviera at Nice.
"We're looking at Georgia away, the penultimate of the four tests," said Johnson. "I've done most of the work up until the injury happened at St Andrews three weeks ago.
"Adam just got in my way, I trod on his foot and the ankle rolled over. For the first half hour I was thinking the worst, but the one thing was that the ankle didn't "pop" when it happened so generally you think it'll be okay.
"But you're also thinking, with this kind of preparation going on in camp, anything that puts you behind could even put you out."
Team doctor James Robson quickly identified that it was an ankle ligament issue and it just required some due care and rest, and Sam had an obvious candidate to make sure the rest part was fulfilled.
"Adam became my little servant in camp for a while," said Johnson. "He was very apologetic and just trying to make things as good as possible for me, but we're all okay now.
"It's great because James is such a good doctor and he knew what had happened straight away. Once we got the results back from the scan we knew exactly where we were at, we put together a plan and everything's fine.
"I got out of the boot last week, I've had a few days on the bike and we start running on Thursday or Friday this week. The target is the Georgia away game."
It's a reminder with the plane to Japan just four Saturdays away that even in innocuous training routines things can go wrong, he agreed, and even more when you see the likes of Wales' Gareth Ainscombe out of the World Cup already after one warm-up game at the weekend.
"Injuries are just one of those things where you don't want to think about it but it's at the back of your mind," he said. "It doubles up now we've got games, but it's just part of the sport, we saw boys on the weekend getting injured.
"If anything it's when you're going 80 per cent you're more likely to get an injury, I think. But it's part of rugby, injury has to be put to the back of your mind."
Johnson and Fraser Brown – also out of action still recovering from the knee injury he suffered in the PRO14 final – were at Murrayfield as Scottish Rugby renewed and extended their sponsorship deal with drinks company Crabbie's.
Crabbie's will become the official gin partner of Scottish Rugby over a three-year deal while extending the existing partnership with the brand's alcoholic ginger beer.
Both drinks will also feature with branding rights with Edinburgh Rugby in their games at Murrayfield.