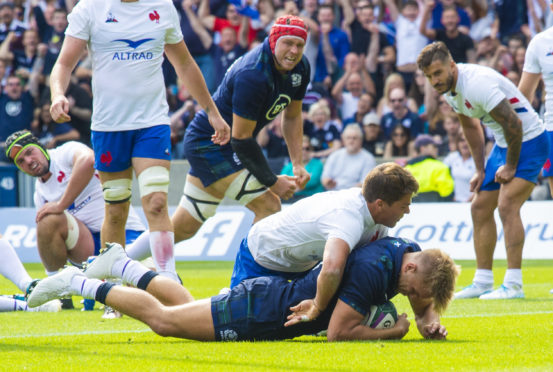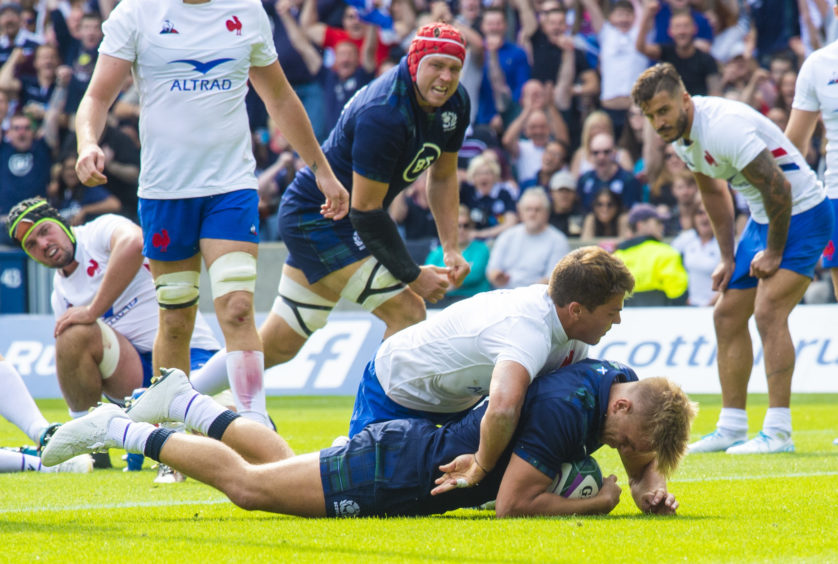 Scotland bounced back from their trouncing last week in Nice to beat the French, but it was a battle won with sheer resilience and included what looked like a serious injury to a key man in their plans for the World Cup in Japan.
Chris Harris' try midway through the second half put Scotland ahead for the first time in the game and they held a narrow three-point advantage until the end, with the defensive effort in particular being night and day from that last week's defeat in France.
However Sam Skinner, a key man with his versatility to play both second and back row, suffered what looked like a nasty knee injury and must be in doubt to make the trip to Japan.
It was a game where both sides tried to make the most of the opposition's errors, but Scotland's ability to force turnovers and spills with a much more concerted defensive display proved the winning of the game.
Two big Scottish errors – an intercept by Pete Horne and a drop by Finn Russell – brought the French tries in the first half, but they rarely threatened as an attacking force with ball in hand, especially after playmaker Camille Lopez had to retire early.
Over the two warm-up games France will definitely be the happier camp, but at least there is a foundation for the Scots to build on with two more physical games against Georgia in the next two weeks before they head off for Japan.
A sell-out at Murrayfield – although a little below full capacity because of summer refurbishments – wanted an early statement of intent by Scotland but instead saw another gift for France.
The home side weren't making a lot of ground with ball in hand when they tried to play with width, and Pete Horne's link pass was too easily snatched by Damien Penaud, who raced 40 metres to score under the posts, Lopez converting.
Scotland quickly stole the restart ball and won a penalty for offside kicked by Laidlaw, but it was another difficult half-hour with Finn Russell in particular looking a little less than at full pace.
The stand-off had one poor offload to no-one in particular and a series of kicks that were easily mopped up by the French, particularly the impressive Antoine Dupont.
Scotland were defending better, especially one huge hit by new cap Blade Thomson, and France were spilling the ball a little more than in Nice, but a second gift came for the visitors just before the half-hour.
Russell dropped a Dupont box-kick under little pressure and France swiftly snared the ball and spun it wide, leaving Sofiane Guitoune isolated against two forwards. The Toulouse centre cruised past them both to give an easy scoring pass to Penaud.
Scotland had rare chances only to give up hard-won territory with silly penalties and poor lineout drills, until the seized on a French mistake to get a foothold back in the game.
A retreating scrum put Thomas Ramos under pressure in midfield on his 22 and he ill-advisedly off-loaded to Penaud as Harris levelled the wing, picked up and was just caught short as he went for the line.
Scotland quickly recycled and moved it to Russell, who looped a trademark pass over Charles Ollivon for Maitland to score in the left corner.
Laidlaw's fine conversion brought Scotland to just four points adrift at the break, which was about right on the balance of play.
Scottish hearts were in their mouths again just into the second half when Penaud again intercepted a pass, this time from prop Gordon Reid, but the Scots' defence was far more robust than a week ago.
The Scots had a golden chance when a loose high pass from Laidlaw found Russell gathering one-handed above his head and chipping through for Kinghorn, but the first half replacement for Tommy Seymour threw his inside pass behind Hogg as the full-back motored up in support.
Scotland then defended a maul superbly causing another spill from France, and Hogg's kick up the tramlines from one 22 to the other had the visitors infringing.
From a more solid setpiece, Scotland drove at the French line and when Horne and Wilson were repulsed, Laidlaw picked Chris Harris coming on a late running line at pace to go through for the try under the posts, Laidlaw converting to take Scotland 17-14 ahead.
But the crowd was quietened by what looked a serious injury to Sam Skinner, requiring an ad-hoc reshuffle with George Turner going into the back row and Grant Skinner on for his first cap.
Scotland still kept feasting on French errors and after another turnover in their territory Hogg's brilliant chip into space and chase almost opened up France only for the Scots to be penalised for holding on in the 22.
An errant lineout throw after the Scots passed up a kickable penalty cost them another try scoring chance, but with a couple of nervy errors and the help of some from the French they held on for the win.
Att: 66,181
Scotland: S Hogg; T Seymour, C Harris, P Horne, S Maitland; F Russell, G Laidlaw (capt); G Reid, G Turner, WP Nel; S Cummings, S Skinner; R Wilson, H Watson, B Thomson.
Replacements: G Stewart for Skinner 61, A Dell for Reid 48, S Berghan for Nel 57, G Gilchrist for Cummings 57, J Barclay for Thomson 43, G Horne for Laidlaw 71, R Hutchinson for Horne 66, B Kinghorn for Seymour 17.
France: T Ramos; D Penaud, S Guitoune, G Fickou, A Raka; C Lopez, A Dupont; S Poirot, G Guirado (capt), R Slimani; F Lambey, S Vahaamahina; A Iturria, G Ollivon, G Alldritt.
Replacements: C Chat for Guirado 51, C Baille for Poirot 51, E Setiano for Slimani 61, R Taofifenua for Lambey 51, Y Camara G Alldritt 61, B Serin for Dupont 61, R Ntamack for Lopez 38, M Medard for Ramos 61.
Ref: W Barnes (RFU)