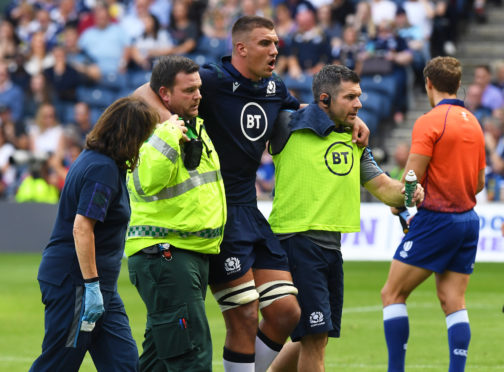 Sam Skinner won't go to Japan in three weeks and Richie Gray won't be at the World Cup at all, confirmed assistant coach Danny Wilson as Scotland took stock of resources ahead of a third summer test in Georgia.
As feared, Skinner suffered enough damage to his hamstring in Saturday's 17-14 win over France that will force him out for 6-8 weeks, so if he is to play in Japan, it will only be in the latter stages because of an emergency injury.
Gray, however, will not take part in the World Cup. The 62-times capped, 6ft 10in lock was always a curious omission from the enlarged training squad, but it seems that this was the player's decision.
He and Gregor Townsend spoke again in the light of Skinner's injury, but only for Gray to confirm he's opting out due to family reasons – he and his wife have just had a child – and concerns about his recovery from a series of long-term injuries.
Therefore Tim Swinson was "invited to train with the squad", a curious choice of words which probably indicates that the veteran from 2015, capped 38 times, is just there to square the numbers and has little chance of making the final 31-strong squad, to be named next Tuesday at Linlithgow Palace.
Skinner's absence may open the door for some but restricts Townsend's options in Japan. The big Exeter Chief's versatility to play lock or blindside forward was a handy thing to have, and there's no-one left who can fulfil both roles if required, although No 8 Blade Thomson has some club-level experience in the second row.
"Obviously it's a big blow for Sam and a big blow for us," said assistant coach Danny Wilson. "I thought Sam was training and playing really well, and he gave us a bit of six and second-row cover.
"We're not 100 per cent sure of the timeframe, but right this minute now it does prevent him for the next four weeks as a minimum from being able to do anything. Obviously we want to get on the plane with fit players, a fit squad.
"Sam being as professional as I know he'll be, he'll return as quickly as possible. Depending on whether there were injuries (in Japan), there's hopefully a fit body in four to eight weeks, but that call's going to come from the physios."
Wilson added that the discussions between Townsend and Gray had not been "something that had happened overnight" but injury to Skinner had put a "full stop" on the situation and the 30-year-old had decided he wasn't going.
"Gregor's been in conversation with Richie for a long time and I think recently he made the decision that he couldn't commit to the World Cup – based on family reasons, and obviously he's returned from a long time out with injury and has been getting himself back to fitness," said Wilson.
"There are a number of things that can cause that decision and we have to respect that decision first of all and the reasons it was made."
Gray has not been involved since Wilson took over the Scottish forwards last November, with the lock's last two years blighted by injuries. Gray played sparingly for Toulouse in their run-in to French Championship last season and made his first appearance in the Top 14 this season at the weekend.
"I really admire the player," said Wilson. "I think he's been a great player for Scotland over the years, and he's a quality rugby player. Timing does come into these things at times, and that's the situation, that's a personal choice which we understand from Richie.
"It would be great to have that type of player available to you but that is not the circumstance. Hopefully he will be involved in the future, we'll see."
Scotland's other two casualties from weekend, Thomson and Tommy Seymour, likely won't travel to Georgia due to continuing concussion protocols but neither is currently regarded as a severe case.
The four squad players yet to feature in action in warm-ups – Fraser Brown, Jonny Gray, Magnus Bradbury and Sam Johnson – were all due in training yesterday afternoon and will be assessed ahead of the trip to Georgia, where Scotland will be the first Tier One nation in Tbilisi.
"We did a lighter unit-based session this morning, and if players get through this afternoon then there's a good chance that some of those guys will be involved this weekend," added Wilson.
"The players we'll take will be based on making sure that we've got a squad that is fully covered, but it'll be a strong side.
"The players behind shouldn't think anything. Until that 31 is named, there's genuinely places up for grabs. There's obviously plans in place that we'll stick to, but there will be reactions to performances.
"This is the third game of four, and it's an important and challenging game for us to assess player's chances of being selected."