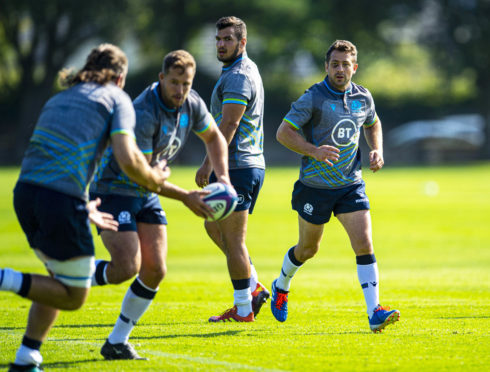 Greig Laidlaw got as excited as his first cap when he heard his name read out as a starter for the opening game which will be "for sure" his last World Cup.
No longer skipper, Laidlaw will no doubt still be a key man in directing the team against Ireland in Yokohama while assisting Stuart McInally, but he still feels the same every time his name is on the teamsheet.
"It will be my last World Cup, that's for sure," said the 34-year-old. "Of course, any time you get to pull on the jersey you saviour it.
"When Gregor named the team to the boys, you get excited. It's the same excitement you got the first time you were picked. There's nerves and it all comes rushing back.
"It's awesome to be involved but I want to be involved in a successful team and that's what we're here to do. The boys given the opportunity and privilege to play tomorrow, it's up to us to get the result."
McInally has Laidlaw's full support as captain as a "fresh voice" in the Scotland team.
"He's been excellent, as `Rambo' says himself, he does his leading out on the field and he certainly does that," continued Laidlaw. "He's got the full backing of the team and we respect him. He's going to do a fantastic job both now and in more years to come.
"It's up to us that the leaders round about him, myself included, that we make sure he gets the support he needs."
Laidlaw's tactical acumen may come into play with Typhoon Tapah the latest weather front to threaten Japan and promise rain and wind throughout the afternoon before and throughout the game.
"We're told there is a storm sitting off Japan somewhere but whether it comes in or not, we're not sure," he said. "We've got that into our game plan and if the weather does come in we can flick to a system that suits that weather.
"That's been a big part of our preparation. We've worked closely with the coaches to make sure we're all happy and can adapt quickly. If the conditions change it's certainly not going to be a surprise to us."
What has been a surprise is that Laidlaw is comfortably the most popular Scot with the locals, his "Mister Greig" persona causing his team-mates much mirth and some bemusement to the player.
"I seem to be a bit of a favourite which is certainly more amusing to the boys than it is to me," he said. "Hoggy and Finn are probably playing it down but they are pretty gutted I would imagine!
"I think it came from the last World Cup in 2015. Japan had that tremendous victory against South Africa and while I can't remember the numbers, a couple of million here watched that game on TV.
"By the time they played us next, the viewing figures in Japan had increased significantly. Fortunately I had one of my better games for Scotland that day and I think it all stems from that."