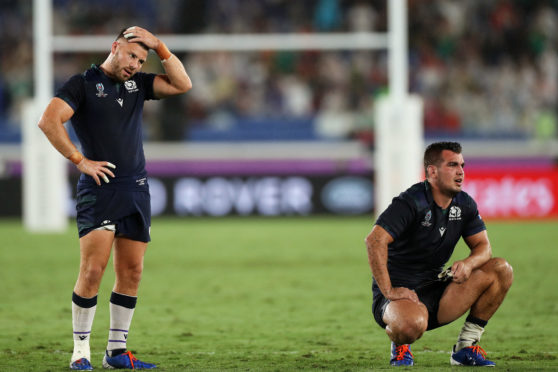 Just what is it about Scotland in the first few minutes of games recently?
Take out the two warm-up games against Georgia, and Scotland have conceded a try – and the first one of the game – in every international since the opening game of the Six Nations against Italy.
James Ryan bashing over from close range after five minutes on Sunday continued the trend. In both warm-up games against France, Scotland conceded early; England scored in the opening minute at Twickenham, Wales took just over 10 minutes to work the space for Josh Adams the week before that.
And at least Scotland kept France and Ireland waiting in the Six Nations games in February, when it took them 12 and nine minutes to score.
But it's an astonishing record for a nation that at least sees itself as being competitive in the international arena; Scotland have given a head start to every significant well-ranked team they've played this year. They've been coming from behind all the time.
Against sides like Ireland, and to a lesser degree Wales, who are constructed around building an advantage and then squeezing the opposition to death, getting a head start and a lead is number one requirement on their gameplan and Scotland appear to be quite happy to give it up.
It's even more galling in terms of Sunday's debacle as the area in where Ireland have shown real weakness in recent times is when they've had to open out their style and chase a game. As England and Wales have proved in the last few months, deny Ireland a platform on the scoreboard and they'll invariably wilt.
Scotland didn't. Ryan's early try came from Scotland trying to put width on the ball from their own half, Duncan Taylor's wild miss-pass to Sean Maitland going into touch. From the lineout, Connor Murray and Iain Henderson smashed through an ineffective defence to set the position for Ryan to score.
This is not a rarity. Against France in the warm-ups Scotland were trying to get wide when Pete Horne's pass was intercepted by Damien Penaud. A wild pass from Sean Maitland in his own 22 rather than a touchfinder gifted Murray the try at the Ireland Six Nations game at Murrayfield.
What's happening? Sure, Scotland want to play this quick game and stretch teams, but you've got to set a platform first, the opposition defence has to be on the backfoot before you can safely put width on the ball.
It seems that Scotland want to make a BIG STATEMENT early in games with wide play. When their style has been effective during Gregor Townsend's regime, it's always been when the platform has been set.
Sunday was worse than usual because even after the first example Scotland still kept trying to make this big statement, running out of their own half again and getting caught holding on to set up the position for Rory Best's try, with just 12 minutes played.
By all means Scotland have to stick to their chosen open style. The team physically really isn't suited to any other way, they can't be set up like Ireland – even if they wanted to it would take months – but they can compete and create scoreboard pressure, they've proved that in the past.
Scotland aren't good enough, even at their best, to put the game away in the first 10 minutes. They should stop trying.
Some cliches about Japan that are definitely true
We'll probably go into these in more detail as the diaries continue (what do you mean, we're only a week into this thing?) but here's some things you've always heard about Japan are true…
Japanese people are incredibly polite. When you're handed anything, whether it be a gift or when buying a stick of chewing gum, it's with reverence and bows as if the item is made of precious metals. If you drop anything, a person leaps from nowhere to pick it up for you. The most said word in the country is unquestionably Sumimasen, which is a sort of hybrid of sorry and excuse me.
Japanese toilets – the hi-tech ones anyway – are awesome. I won't be indelicate and describe exactly why, but anyone who has been to one will know.
You get the impression is that if the Japanese could make their lives entirely based on vending machines, they'd do it. There are countless numbers of these machines in the street, and even in some restaurants you pick your food from them.
In the west we've merely scratched the surface in terms of removing humanity from the customer service arena, if we even wanted to.