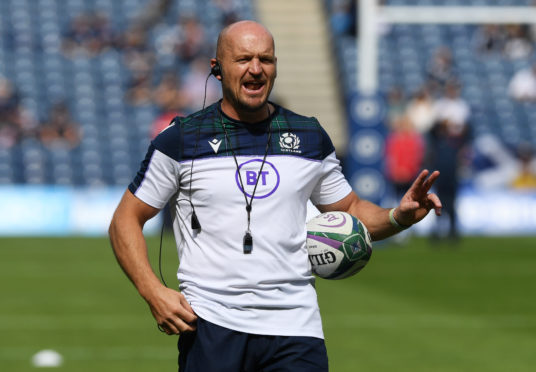 There's always a huge element of `yeah, but what have you done for me lately?' in sport. My favourite example of this was speaking to an Irish journalist over a beer when he was disparaging the efforts of Padraig Harrington – less than a year after Paddy had won two majors in the same season and become Ireland's greatest-ever sportsman.
Harrington had become the first Irishman to win the Claret Jug, a revered prize in that country – 1947 champion Fred Daly was from Portrush, but wouldn't have ever liked being called Irish – and after winning it in successive years, he should have really had a free pass for life. But how soon they forget.
Gregor Townsend has not done anything in Harrington's sphere as player or coach, although there have been some celebrated moments in each. Now he's under severe scrutiny because of one bad – okay, pretty horrific – result in this World Cup.
And yes, this tournament is the one on which the head coach will be judged, quite properly. If Scotland fail to get out of the pool stages for only the second time, it's a failure.
Yet Townsend could suffer that and he would STILL be the most successful national coach Scotland have had since professionalism. Only if the Scots lose all three of their remaining pool matches would his record dip below Vern Cotter's.
Townsend's record of 15 wins, 12 losses and a draw stacks up over anyone who has had the job. Cotter is the only other one of nine head coaches who has more wins than losses. The legendary Jim Telfer had nine wins and 11 losses in his stint after the game went pro; people forget the year before the championship season on 1999, his team suffered seven successive defeats.
Scotland play a few more tests these days than they did in the 2000s, but looking down the list the quality of opposition was pretty similar. One argument is that Townsend has better players at his disposal than most of the other head coaches, but that's simple opinion and unquantifiable – a simple look at the won-lost column is much more representative and reliable.
This doesn't mean Townsend gets off the hook if he's been tactically inept at this World Cup, and there's still plenty time to prove that. But perspective is required; although the team has not performed well this calendar year, the coach has plenty – although not endless – credit at the bank.
The refs mark themselves down
The late Bill Hogg, long-time secretary of the SRU, used to like to say that "the referee in rugby is always right – and never more so than when he is wrong".
That traditional view is hogwash in today's world of TMOs, but respect for the referees remains a cornerstone of rugby. Well, at least among the players.
World Rugby took the highly unusual step of acknowledging that the refs have made a bit of a dog's breakfast of the first week of the World Cup, with a number of questionable decisions and a poor application of new directives.
This was even before Ray Lee-Lo of Samoa poleaxed a Russian with a no-hands, shoulder-to-the-head tackle in Monday night's game. Romain Poite, the French referee who was once regarded as the world's best but has definitely slid down the popularity list, somehow found a way not to show a red card to the centre.
Poite's chances of directing sudden-death games will have diminished further – Scotland, who have had issues with him in the past, will not mourn that – and the statement seems to have been endorsed by the refs themselves, with a "we'll do better" vow.
The party town
Kobe, where Scotland – and England – play their next game, is a Pacific port city but it's largely overshadowed by it's neighbour to the east, Osaka.
Osaka is Japan's food capital and acknowledged party town. I haven't been all around the city yet, but the people seem more outgoing than Tokyo, less conservative. The enormous mall around Umeda Station, the transport hub for the city, is 10 floors full of shopping, and it was mobbed when we went on Monday night trying to find a bar showing the Russia-Samoa game.
The bar we found filled up with mixture of locals – and a couple of Americans – all of whom were into their rugby. The bar was unashamedly with the underdog Russians, with plenty of oohs and aahs on the occasions they got close to Samoa's line, which remained uncrossed.
When Samoa scored their tries, however, the whole bar broke into a round of polite applause.
Osaka is not as much a rugby town as Kobe, however, which is why there are more games at the Kobe Misaki Stadium, which is a 30,000-seater with a retractable roof.