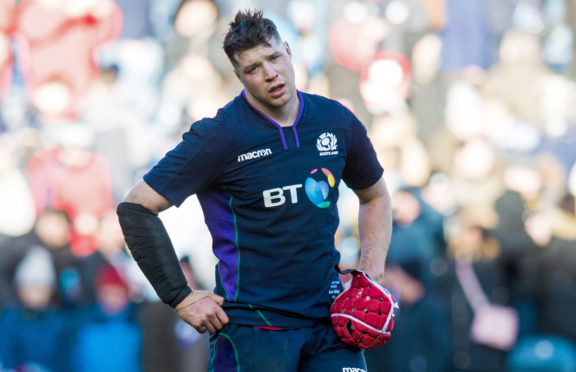 The Scotland players who were part of the Yokohama debacle on Sunday know that they "are not in a great position" to get on the field to make amends against Samoa next Monday, says Grant Gilchrist.
The lock believes that places are in jeopardy as the Scots aim to get their Rugby World Cup campaign back on track after the woeful 27-3 loss to Ireland in the opening game.
"Definitely places are in jeopardy," he said. "There is no doubt that when you play as badly as that that everyone's heads are on the block, and so they should be.
"I am not going to sit here and say anybody deserves their place in the team when they are involved in something like that. It will be up to Gregor who he selects for the next game and the boys who played are under no illusions that we are not in a great position."
Getting back on the training field yesterday was a relief, he said, after two days cogitating on the first game defeat.
"It was good to get out there," he said. "The last couple of days were really hard, playing that game over in your head desperate to have played the game better and done things differently.
"The reality is you only got the next training sessions until the next game so that is the first training session. We get a little bit out of us but as we build we will be trying to build towards a full performance on Monday.
"I think it would have been a must win game anyway, but the situation is now as clear as day. We have to win three Test matches."
Scotland's won't underestimate the three teams that are coming now, even if all three are Tier Two nations.
"We have not thought that we have tier two nations from now on, we have some really impressive teams to play," he said. "We are not taking them lightly or expecting them to be lesser opposition, we are not going to be kidding ourselves this is going to be easy.
"These are going to be three of the hardest matches we could face and (the opposition) know the difficult position we are in."
The review of Yokohama was no holds barred, said the Edinburgh lock.
"It was: `Let's get it all out on the table, let's fire the bullets and take the bullets like men,'" he said. "We are professional rugby players but we try not to, but we have the odd bad game. It is about taking that on the chin and working out how you can be better collectively and individually.
"What's important is that we close the book and leave the emotion behind. You are in a dark place for a couple of days, but you have to get your head up and realise this World Cup is alive for us.
"There is a huge opportunity on Monday for us to right our wrongs. I we do that, it rolls on, we can build on that and set out what we have set out to achieve in this World Cup."
The reaction from the public at home had hit hard, but the squad knew it was deserved, he continued.
"We'd put a lot of work in behind the scenes for the last four or five months building towards the game, and with that result everybody is annoyed and angry with how we played," he said. "Nobody is more annoyed and angry than the guys who have been grafting for the last four months.
We understand why everybody else is annoyed, but we're more annoyed than anyone.
"People are questioning whether we care and whether we are aggressive enough, and that's hurtful so we need to go out and really show that.
"We made a commitment to each other to do (our roles) and to me that's the biggest thing, what you commit to your team-mates. We didn't do that.
"It is not all just aggression. There's a lot of technical things that need to be right to become aggressive. It is not just about getting angry and going out and hitting things – the people would be rubbish and people would say you've lost discipline.
"We're not going to go out and say we're just going to be aggressive – but the persona of aggression comes from being really accurate what you do and having a bit of edge to you, and that's what we are going to try to bring on Monday."
Samoa are a huge danger to the Scots remaining interest in Japan, even if they are hit hard by the citing commissioner after Tuesday's bruising encounter with Russia.
"Scotland against Samoa has been a close game certainly in the last twice we've played them," continued Gilchrist. "The last World Cup was a really closely contested match and also when we played them in 2018.
"They've have scored over 30 points against us the last two times, so there is something we need to do better straight away."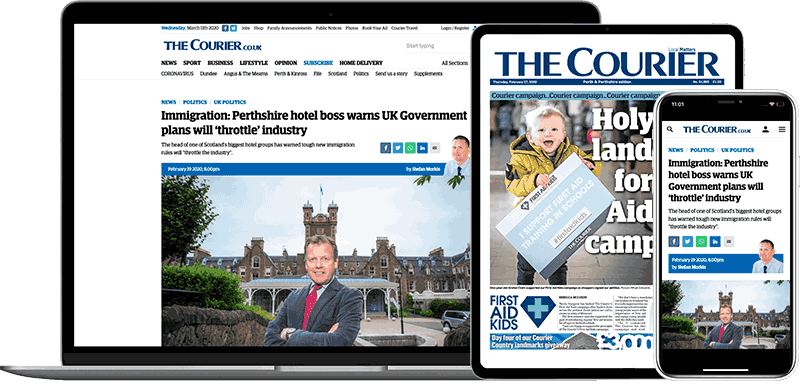 Help support quality local journalism … become a digital subscriber to The Courier
For as little as £5.99 a month you can access all of our content, including Premium articles.
Subscribe