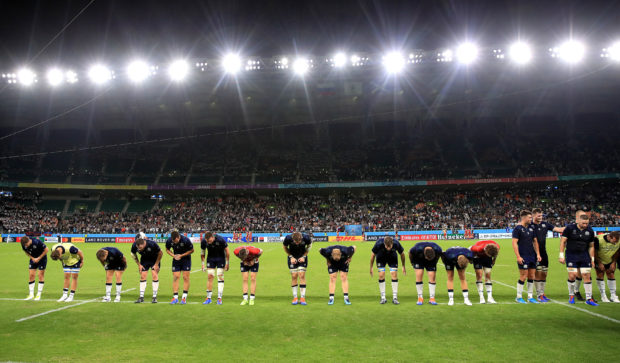 Scottish Rugby will not accept a decision to cancel their pivotal Rugby World Cup pool match against Japan in Yokohama on Saturday and effectively knock them out of the tournament without a major row.
The governing body is furious at World Rugby's failure to present any contingency plans for the game as a result of the approach of the Super Typhoon Hagibis, the game with the hosts being the last in the pool stages and the only one on the last weekend to have quarter-final places riding on it.
If the game is cancelled and declared a draw, Ireland beating Samoa in Fukuoka on Saturday night – in the original path of the storm but now in the clear – will effectively knock the Scots out and deprive them of the chance of winning a last eight place against the hosts.
Scottish officials believe that there is scope within the tournament rules to change venue and date of games under exceptional circumstances. They are perplexed that promises of contingency plans by the tournament organisers seem to have come to nothing, and the only thing that will allow the game to go ahead will be if the storm is less than predicted.
World Rugby and the Japan Rugby 2019 Organising Committee yesterday cancelled both games in the Tokyo Metropolitan area on Saturday, the day in which Hagibis is expected to make land.
"Based on the latest detailed information from the tournament's independent weather experts, Hagibis is predicted to be the biggest typhoon of the 2019 season and is highly likely to cause considerable disruption in the Tokyo, Yokohama and City of Toyota areas throughout Saturday, including likely public transport shutdown or disruption," read the organisers' statement.
The decision affected the England-France game in Yokohama and the New Zealand-Italy game in Toyota City. The match between the two European giants was to determine which won the group, but that will now be England. Italy had a small opportunity to progress if they defeated New Zealand for the first time ever.
World Rugby said the "impacted teams have been informed and are understanding" that the games had to be cancelled on public safety grounds.
"While we have extensively explored all options, public and team safety was our utmost priority as well as ensuring a consistent, fair and equitable outcome for all teams. All fans with tickets for a cancelled match will receive a full refund for the face value of their match tickets," added the statement.
Sunday's scheduled games, including Japan-Scotland will be subject to "a thorough assessment of venues after the typhoon has passed" before a final decision is made on Sunday morning. Fans in the Tokyo Metropolitan area are being advised to stay indoors, not to travel and keep monitoring for updates.
JR, the national Japanese rail network, has already announced that there will be no trains running in Tokyo and Yokohama on Saturday.
"This is a complex and dynamic situation which we have been monitoring extremely closely with the assistance of our weather information experts," said tournament chief  Alan Gilpin. "We are now in a position to accurately predict the likely impact of Typhoon Hagibis on Rugby World Cup fixtures this weekend.
"While making every possible effort to put in place a contingency plan that would enable all of Saturday's matches to be played, it would be grossly irresponsible to leave teams, fans, volunteers and other tournament personnel exposed during what is predicted to be a severe typhoon.
"As a result, we have taken the decision to cancel some matches in order to ensure the safety of all involved. It is the right thing to do, and comes with the support of all stakeholders, including the teams.
"We fully appreciate that England, France, New Zealand and Italy fans will be disappointed, but we trust they will appreciate that their safety must come first. They will be entitled to a full refund on their match tickets.
"Our message for all fans in Japan for Rugby World Cup is to heed all official advice, stay indoors throughout Saturday and do not attempt to travel on the day."
Gilpin appeared to pour cold water on the suggestion that the game could be moved or rescheduled, indicating that this was not going to be an option.
"We've looked again at the potential to apply some kind of consistent contingency plan across all the games that occur this weekend and we treat all those matches the same," he said. "I think it's important to remember that Italy are in exactly the same position as Scotland.
"Japan-Scotland is clearly a huge game and we'd love to be able to play that game, and we'll be working very hard with all the authorities to do everything possible to ensure that game is played, but we won't treat that match if it can be played any different than the others."
Scottish Rugby's response was fairly unequivocal, saying that while public safety was the clear priority, they expect to play the game.
"With potential impact on our last Pool A fixture, Scottish Rugby fully expects contingency plans to be put in place to enable Scotland to contest for a place in the quarter-finals on the pitch, and will be flexible to accommodate this."
The indication is that the Scots are prepared to play the game behind closed doors, at an alternative venue or even on a training field, but they are determined that it will be played.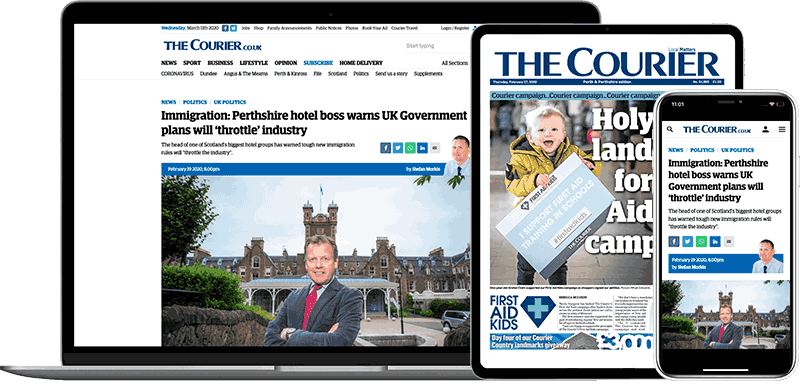 Help support quality local journalism … become a digital subscriber to The Courier
For as little as £5.99 a month you can access all of our content, including Premium articles.
Subscribe