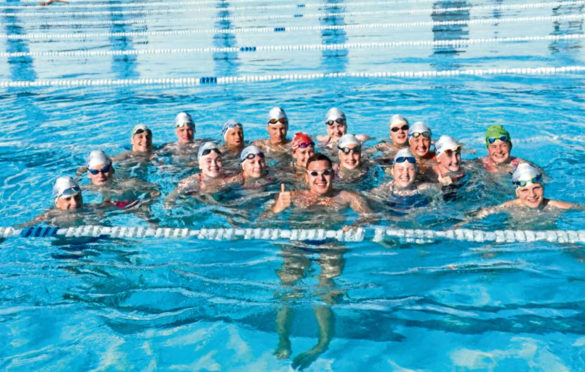 A group of young athletes have been left devastated after having a near-£2,000 bill slapped on them by Ryanair over a European training camp.
The swimmers have been hit with the massive financial blow by the airline for abiding by government advice and postponing their trip.
The group, from Perth City Swim Club, have accused Ryanair of callously cashing in on the pandemic and leaving a question mark over the viability of the camp.
A group of 14 swimmers from the club's Gold squad had booked a year in advance to attend the T3 training centre in Tenerife during the October school holiday.
However, they have followed UK Government advice against non-essential travel, and Scottish Government advice to avoid going abroad, and called off this year's camp.
The club immediately advised Ryanair that they wanted to reschedule the same booking for the same flights in October 2021 but have been told it will cost them an extra £1,700 "admin" fee.
Club president Carol McPartland accused the airline of cashing in on the pandemic and shattering the dreams of a group of promising swimmers.
She said: "We know businesses, including airlines, are having a tough time of it, but Ryanair are simply exploiting the situation.
"There is no refund option at all, and despite what Ryanair might advertise, these were not cheap flights. They cost around £300 for each child.
"The kids in our performance squad have done a lot of fundraising to make the camp viable and they were all really looking forward to it.
"These camps are a gateway to national and international success and Perth City's world champion and Olympic medallist Stephen Milne was on last year's trip.
"The pandemic has been really hard for the kids, especially as they have not been able to swim at all for six months, and this is just a huge kick in the teeth from Ryanair.
"We have been completely reasonable with them but we're now left in a situation where we don't know if the kids can raise enough money to pay this extra bill."
Carol pointed out it was impossible for the group – aged from 13 to 16 – to go this year as the sport's governing body would not have granted a licence.
She said quarantine rules would also have meant the children having to miss weeks of school upon their return if they risked flying to Spain.
"Ryanair have been offering credit vouchers to people taking the risk of booking now.
"That seems unfair on customers like us, who booked well before the pandemic was even known about.
"It would be easy for Ryanair to scrap this 'admin' fee and that is all we are asking for.
"These are great kids, who work hard in their sport and they deserve a break," she said.
Ryanair's press office failed to respond to attempts to contact them for comment.