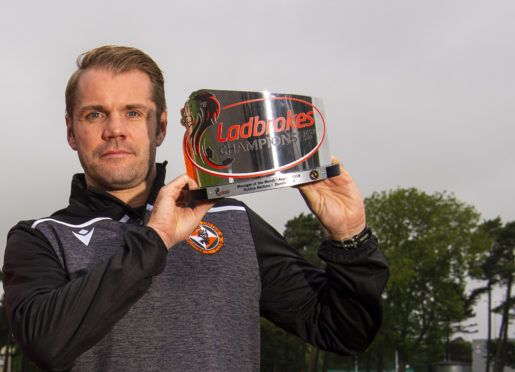 Dundee United boss Robbie Neilson is hoping to be named manager of the year as that will mean his team have achieved their promotion goal.
Neilson has been voted Ladbrokes Championship manager of the month for August, while free-scoring striker Lawrence Shankland picked up the player of the month trophy.
It all adds to the feelgood factor at Tannadice after their 6-2 derby success over Dundee in their last league outing.
As he prepared his team for the tough trip to Ayr on Saturday, Neilson was happy to receive this latest award. He then set himself and his men a greater target.
Neilson said: "It is early days.
"I would rather get manager of the year and had actually won something.
"Yes, it's great for the club to get that recognition but it doesn't really mean anything to be honest with you.
"It is nice to get but, as everyone says, it is a group thing, a staff thing.
"Ultimately, the players are the ones who perform and get the results and you get a wee bit of recognition off the back of it.
"It does add to the feelgood factor but it's early and we need to make sure we keep working, that we don't have a good first month and a poor second month.
"Lawrence has carried his form in from last season and I am sure he's eager to continue that.
"I'm sure he will say the exact same thing, that it takes the rest of the guys in the squad to help him get to that level and score the goals.
"So we are not getting carried away.
"It's really important that we don't do that because we have some tough games coming up.
"For example, we are going down to Ayr on Saturday and it's been a while since we won there."