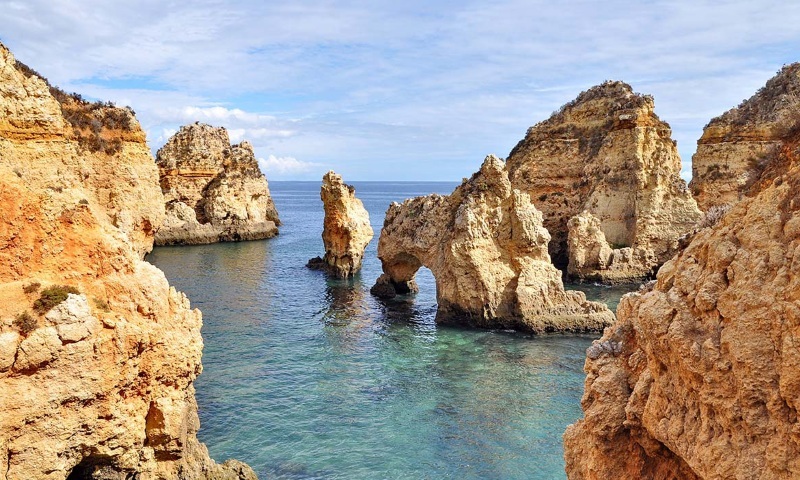 An ideal getaway without too long a journey is the ever-popular Portuguese resort, The Algarve. Curving round the south coast is the Algarve region, which has a dramatic coastline, scalloped with sandy bays and secluded coves.
Resort-wise, you can choose between large, lively towns and sleepy fishing villages.
This region of Portugal also offers some of the best golf courses in Europe.
Year round sunshine is a draw for many visitors. Portugal is a friendly country offering warm hospitality as well as picturesque charm and relaxation.
Portugal is an ideal family destination and is also a golfer's paradise.
There are several amazing resorts dotted along the Algarve and all of them are perfect for a relaxing sunshine break in pretty surrounds with great bars and restaurants to while away the balmy evenings.
Dining is a popular pastime along this stretch as there are so many great options, especially for fresh fish and seafood but visitors can also expect some exciting flavours in Portugal.
Common menu staples include Bacalhau, Cozido, fresh fish and seafood and roast suckling pig.
Don't worry if your palate isn't that adventuroustourist areas cater for all tastes with restaurants serving international cuisine.
The biggest choice you will probably need to make is which resort to opt for.
I've been to quite a few of them now and wouldn't complain about a week or two in any of them if I'm honest.
Although Albufeira is arguably the most popular with its impressive nightlife and vast choice of hotels and apartments to suit every budget, I have my own personal favourites. Vilamoura, Altura and Carvoeiro.
Vilamoura – One of Portugal's biggest resorts but also one of the most glamorous.
The marina is the hub of the action in Vilamoura where impressive yachts are moored and visitors can admire them as they stroll along the harbour.
The resort also offers fantastic golfing and a casino for evening entertainment.
It's the perfect spot for people watching and generally watching the world go by in an elegant bar in the marina.
Praia de Altura- This pretty spot is one of the Algarve's real hidden gems, located 40km east of Faro.
The stunning beach is a haven for water sports enthusiasts. Being one of the quieter resorts on the Algarve, Altura retains much of its old world charm.
Carvoeiro – I've always found Carvoeiro one of the less bustling resorts and feels more like an authentic Portuguese habitat where you can enjoy seeing locals at work and play.
A former fishing village lying on the western Algarve, Carvoeiro is a small town with some lovely beaches and sits roughly halfway between Albufeira and Portimao The picturesque town is set in a cleft of cliffs; surrounded by traditional white washed houses, narrow cobbled streets and private villas.
Don't rule out a day trip to Faro. Usually only dipped into as the entry and exit point as the main airport is based here.
However, it's worth a longer visit to see some amazing historical monuments and buildings as well some fabulous shopping. Day-trippers can enjoy a bit of retail therapy in the elegant boutiques, perfume and cosmetic stores.
There's also great local produce on sale as well arts and crafts. Best buys in Portugal are ceramics, tiles, linens, shoes and jewellery. Portuguese wine is definitely worth sampling too!
Another great way of packing more places into your holiday is to take a day tour of the Algarve and explore the pretty historical towns and cities of the region.
Visit Silves, a city that was formerly an Arab capital, Lagos, a town linked to the Portuguese discoveries and the fishing village of Sagres.
Coach tours are readily available from tour operators or your hotel concierge and really are a lovely way to see more of the place without the hassle of driving yourself.
If the Algarve is calling you and you fancy an affordable holiday in this beautiful, sun-drenched pocket of Europe, look no further.
We've teamed up with talkholiday to bring you these great deals –
Relax In The Algarve This Spring With Great Deals On Hotels, Prices Starting From £11.96per night
Jet Off To The Algarve This Spring With Great Deals On Flights From Edinburgh Prices From £103.90pp
Go All-Inclusive At The CLUBHOTEL RIU GUARANA4* In Praia da Falsia From Only €85pp per night
Take A 7 Night Holiday In The Algarve This Spring With Package Deals Starting From Only £304pp
Exclusive Deal Of The Algarve Landscapes and Winery Tour From Only £33pp
Discover The Taste Of The Algarve With The Taste And Traditions Tour From Only £36pp
Travel themed social media networktalkholidayis a site where you can plan, prepare and purchase every aspect of your travel, even down to your holiday wardrobe! In addition, the site boasts a free crisis support feature for holidaymakers in the event of a natural disaster, or if they lost their passport, mobile phone or bags on holiday. Translator and consular services are also available. Best of all it's FREE to join.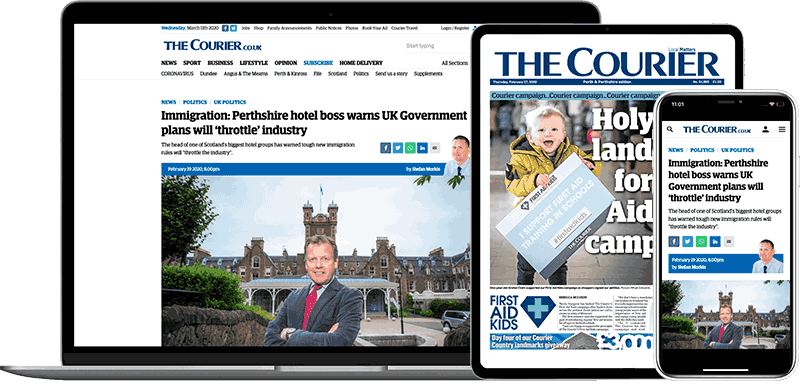 Help support quality local journalism … become a digital subscriber to The Courier
For as little as £5.99 a month you can access all of our content, including Premium articles.
Subscribe