Getting to the continent couldn't be quicker or easier these days with the volume of flights and routes on offer from budget airlines.
However, sometimes I crave an adventure that doesn't involve weighing cases and sweating in the airport that my bags will not meet the weight criteria and I don't enjoy travelling light.
What woman does? Besides, flying isn't everyone's cup of tea and nobody should miss out on overseas holidays because of his or her fear of the sky.
As springtime peaks through the curtains of the gloomy winter weather, what better way to embrace the new season than a fun European road trip?
Honestly, it's easier and more relaxing than you think.
There's a lot to be said for the freedom of the open roads and the flexibility of going wherever takes your fancy.
Sure, it will take a little longer than simply hopping on a flight, but that's part of the fun.
You will certainly see more of the continent's beautiful scenery and you'll also feel slightly more experienced as a traveller and holidaymaker, having navigated road, land and sea.
Just think of all the tales you can tell at your next dinner party.
There is just one key point in planning your continental adventure when you live in Scotland.
First you must get across the water!
Depending on the route you wish to take, chances are you will opt for Newcastle to Amsterdam.
For example, you can kick start your trip by driving from Dundee to Newcastle in a little under four hours and a great option for your North Sea crossing is to take a DFDS Seaways trip.
I was delighted to find they also have no baggage restrictions! I could pack those extra shoes after all.
Their North Sea ferries sail daily between the UK and Holland, and are ideal for exploring the Netherlands or one of the many other European countries within easy reach.
With four routes to the continent, there is plenty of choice in where you can visit.
From the UK, sail from Dover to Calais, Dover to Dunkirk, Newhaven to Dieppe or Newcastle to Amsterdam.
They also offer routes between Norway and Denmark as well as routes linking Germany and Sweden with Lithuania and Estonia providing easy access to the Baltics and Scandinavia.
If you have the sea legs for it, you could really pack in a few places doing it this way.
Your holiday can start the minute you step onboard; enjoy a relaxing meal in one of the restaurants or soak up the atmosphere in a choice of friendly bars.
You can even dance the night away in the ship's nightclub.So, the gateway to Europe lies before you and there are so many wonderful sights to add to your 'to do' list.If you're sticking with Holland for your trip, then do add a visit to Keukenhof – also known as the Garden of Europe, is one of the world's largest flower gardens and according to the official website for the Keukenhof Park, approximately 7 million flower bulbs are planted annually in the park.
It really is a beautiful way to spend some of your time.
Simply admire the display of flowers tulips, hyacinths, daffodils to name but a few. It's a riot of colour!
The Keukenhof windmill is a great vantage point for taking those all-important holiday snaps that you'll be able to look at for years to come and relive the memory.
If a non-flying holiday to the continent appeals to you but you don't fancy the driving, look no further.
DFDS Seaways also offer mini cruises with coach transfers to your destination included.
Also sailing from Newcastle, these popular mini cruises are perfect for families, couples, or groups of friends looking for a combination of a city break and a relaxing two night stay on one of the modern cruise ferries.
In addition to enjoying the onboard facilities, you'll also have up to five hours free time on dry land to explore the delightful city of Amsterdam.
So, if an adventure over land and sea is on cards this spring, check out these great deals from talkholiday.
Take a 2 Night Mini Cruise from Newcastle to Holland with Your Car from Only £95pp
Enjoy a 2 Night Mini Cruise from Newcastle to Amsterdam Now from Only £49pp
Take a 2 Night Mini Cruise Newcastle to Keukenhof Gardens, Amsterdam from Only £107pp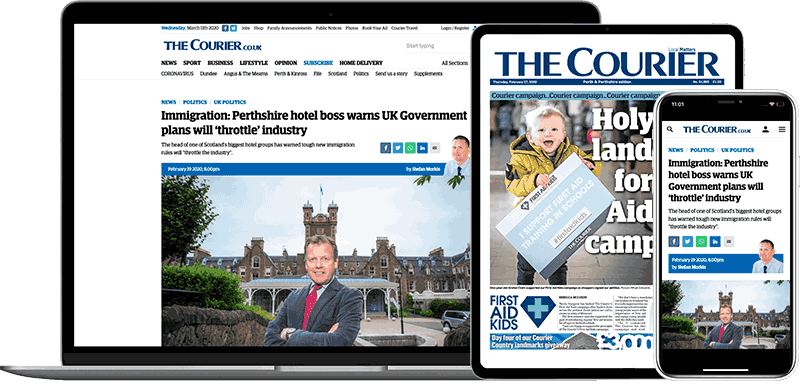 Help support quality local journalism … become a digital subscriber to The Courier
For as little as £5.99 a month you can access all of our content, including Premium articles.
Subscribe