Hugh Grant said "it's so sad" that the presence of telephones on film sets has affected the behaviour of actors.
The 62-year-old British actor, who is best known for his roles in romantic comedies Notting Hill and Love Actually, was speaking on the The Late Show With Stephen Colbert on Monday night.
During his appearance, Grant said movie sets are "so weird" compared to what they used to be like before the heavy presence of mobile phones.
"You know, in the old days, by the end of the second week you were all getting drunk in the evening and having dinner and falling in love with each other and all that," he said.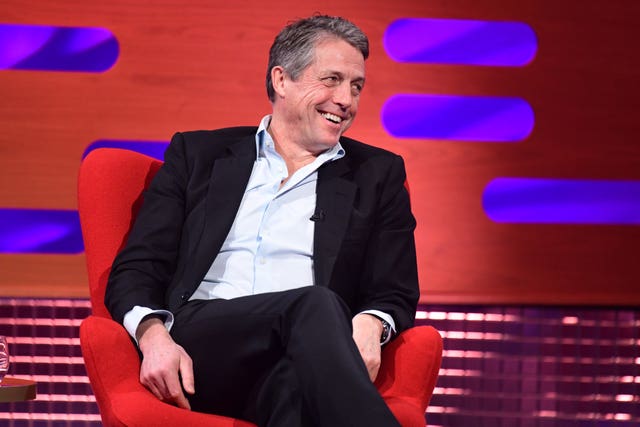 Grant, who stars as Forge Fitzwilliam in the recently released Dungeons & Dragons: Honour Among Thieves, added: "All of that stopped because of telephones.
"Really, everyone goes home and looks at Twitter. It's so sad."
Grant's comments prompted host Stephen Colbert to ask: "If there weren't telephones on set there would be more affairs going on?"
To which Grant replied: "Yeah, I think so…
"You know (Quentin) Tarantino bans telephones from his sets.
"And quite right, too.
"And the people there, they do all shag each other… So I'm told."
Bafta winner Grant found fame in the early 1990s after starring in a number of successful period dramas including The Remains Of The Day and Sense And Sensibility.
He went on to establish himself as the leading man in a string of popular rom-coms, such as Richard Curtis's Four Weddings And A Funeral, for which he won a Golden Globe and Bafta for best actor, and Bridget Jones's Diary.