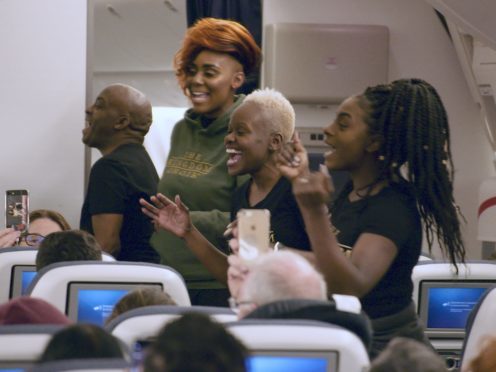 The choir who thrilled guests at the wedding of the Duke and Duchess of Sussex earlier this year have surprised passengers with a performance aboard a British Airways flight.
The Kingdom Choir performed a rendition of classic soul song Stand By Me on the BA flight to Australia earlier this week.
Emily Coen, global public relations manager for BA, said: "The passengers were delighted and surprised as they were tired after such a long flight."
Members of the choir had discreetly taken their seats on the plane before standing up one by one towards the end of the flight to entertain unsuspecting passengers.
Their performance was received with excitement and cheers as many passengers brought out their phones to film the event as others stood up to dance and sing along.
The Kingdom Choir wrote on their Instagram page: "We had such a brilliant time performing Stand By Me and surprising passengers on board our flight with @british_airways to Australia."
Fans reacted with excitement on Twitter.
One tweeted: "Why does stuff like this never happen to me when I fly? I'm jealous! Beautiful performance."
Another wrote: "I would have liked to have been on that plane."
The choristers gained global attention after their royal wedding appearance and are billed to perform at the closing ceremony of the Invictus Games in Sydney on Saturday evening attended by Harry and Meghan.