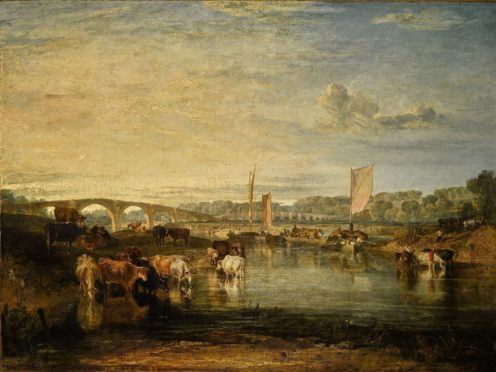 The Government is blocking the export of a multimillion-pound JMW Turner painting "for the benefit of the nation".
The artist's Walton Bridges, an oil on canvas thought to have been painted in 1806, is at risk of leaving the UK unless a buyer can be found, after it was sold at auction in July for £3.4 million.
Arts Minister Michael Ellis is deferring the export licence after a recommendation by the Reviewing Committee on the Export of Works of Art and Objects of Cultural Interest, administered by the Arts Council.
Walton Bridges is understood to be the first landscape completed in the open air by the painter, who was among the first artists, alongside Constable, to sketch directly from nature.
The painting shows the double-span bridge that ran across the River Thames between the locks at Sunbury and Shepperton in Surrey, and it led to a series of Thames scenes during Turner's prolific period, where he worked in sketchbooks and painted in watercolour and oil.
Mr Ellis, minister for arts, heritage and tourism, said: "Turner is one of Britain's greatest ever artists, whose studies of British life still resonate with the public today.
"Walton Bridges is a wonderful example of his distinctive style and his fascination with the landscapes of 19th century Britain.
"It has so much significance for artistic and historical reasons that it is right that we do all we can to save this masterpiece for the benefit of the nation."
The decision on the export licence application will be deferred until February 28 next year, and it may be extended until June 30 if a "serious intention to raise funds to purchase it is made at the recommended price of £3,484,000".
Mr Ellis may consider offers from public bodies for less than the recommended price through the private treaty sale agreements.
Lowell Lisbon, of the Reviewing Committee, said: "This beautiful evocation of the unusual and picturesque double bridge crossing the Thames by the market town of Walton was made at a time when Turner was mostly living at nearby Isleworth rather than in London.
"At that time, around 1806, Turner was frequently sketching in oil, watercolour or pencil from a boat which he rowed along this stretch of the Thames.
"This calm elegiac painting of gentle water-bound commerce and agricultural activity would have contrasted greatly with the turmoil in Continental Europe during this phase of the Napoleonic Wars. It is the absolute antithesis of his Battle of Trafalgar."