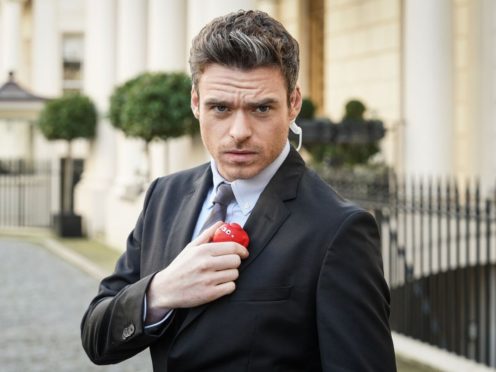 The cast of Bodyguard has taken a subtle swipe at Prime Minister Theresa May in a sketch for Red Nose Day.
Richard Madden reprised his role as David Budd in the short film, acting as a close protection officer for Joanna Lumley's PM.
The short mocked the election slogans of Mrs May, with Lumley demanding Madden be "strong and stable" in his role.
Keeley Hawes, who played the the ill-fated Home Secretary Julia Montague, also appeared in the Comic Relief sketch.
Lumley said in the sketch: "Because we're all in this together, I've volunteered to make stringent cuts myself.
"David I need you to be strong and stable. Not weak and wobbly."
During a stop and search of the PM's car, by Superintendent Ted Hastings, played by Adrian Dunbar, of Line Of Duty, Hawes is discovered in the boot.
The Bodyguard actress asks: "Do you know if I'm in series two?"
To Madden's reply of "you're dead", Hawes mocks the survival theories surrounding the show saying: "Am I?"
Both Bodyguard and Line Of Duty are written by Jed Mercurio.