 Like anything, passion is all about one's interpretation. Some might be stirred by a rendering of Scotland the Brave while others' pulses start racing at the sound of the pipes or the slow movement of a Brahms symphony. The interpretation of the Royal Scottish National Orchestra is in the main one of firey excitement that swaps a candlelit dinner for a pyrotechnic, full-blooded fiesta. Their recent Caird Hall concert was entitled Latin Passion, a romantic Valentine's concert that was exciting, vibrant and full of intoxicating colour and energy. Not quite my idea of passion, but I concede that in the Latin countries, passions run higher than most.
There were items in the programme, where connotations of passion were more obvious than others, particularly in the sequence devoted to the silver screen. The love themes from Cinema Paradiso and Superman needed little introduction, the former including a wonderful solo violin form leader Maya Iwabuchi. Principal oboe Adrian Wilson pitched in with an excellent Gabriel's Oboe with this quartet of marvellous melody capped with John Barry's Out of Africa theme. Now, that I can put in the passionate bracket.
For me, the highlight of the evening wasn't necessarily passion-orientated, but the performance was. The performance of harpist Xavier de Maistre in a transcription of Rodrigo's Concierto de Aranjuez eclipsed anything that preceded or followed it, with a slow movement which was of outstanding brilliance and ethereal charm. One immediately forgot this concerto in its normal form as de Maistre seemed to create a sound and texture alien to a guitar and his affinity with fellow Frenchman and conductor Jean Claude Picard ensured a performance of gigantic proportions.
Topping and tailing the concert were works that were certainly Latin but not necessarily passionate, unless you equate excitement, full-orchestra fortissimo and a blaze of colour with strong emotional attachment. De Falla's Three Cornered Hat Suite was one I knew well, but I wasn't prepared for the pulsating, rhythmical and palpitating frenzy that is Ginastera's score for his ballet Estancia. It brought a triumphant end to a concert that was a feast of electrifying energy and, depending on one's taste, passion.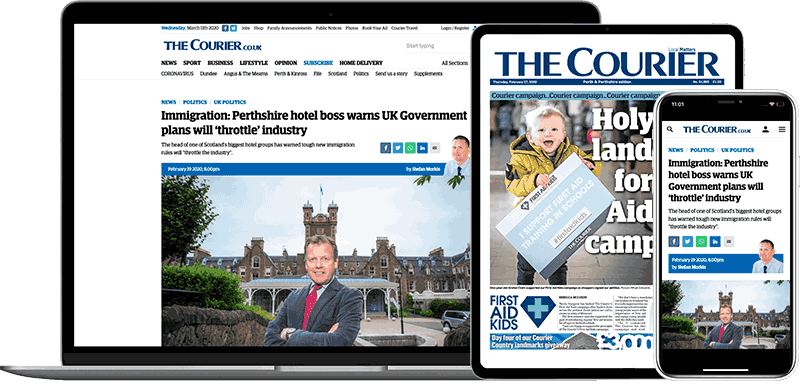 Help support quality local journalism … become a digital subscriber to The Courier
For as little as £5.99 a month you can access all of our content, including Premium articles.
Subscribe