 Three of the last four concerts of Piano Sundays at Perth's concert hall have been entitled "myths of Eastern Europe".
Were these determined to expel the myth that music from eastern can't compete with its western counterparts? If so, this preconception was blown out of the water years ago and have been given less credence during these concerts which have highlighted some marvellous music from the Balkans and beyond, thanks to pianist James Baillieu and his guests. This Sunday, it was Baillieu and the Heath Quartet whose performance of music by Martinu, Bartok and Szymanowski made it an afternoon to remember.
Three Madrigals by Martinu opened the concert, three duets for violin and viola, and their delivery by the quartet's Oliver Heath and Gary Pomeroy was quite stupendous, dialogues that varied from the firey and rumbustious to the elegant and melodic. I'd certainly like to hear them again, and I'd crave a re-run of the following work, that is if the Heath could replicate their magnificent performance of Bartok's first quartet. You could run out of superlatives when describing this. There was passion, a huge spectrum of colour, outstanding individual performances and a display as a whole which proved there was only one winner those in the Concert Hall lucky enough to witness it.
The Heath's Cerys Jones and Bailleu provided the entre to the second half of the programme, an utterly enchanting excerpt from Karol Szymaonowski's opera Krol Roger, a quite beautiful five minutes. Then the programme veered to the west, out of the realm of 20th century music and into the magical and romantic world of Johannes Brahms and his fabulous piano quintet.
The harmonies of the other three composers might have their own attraction, but for sheer depth, texture and warmth, those of Brahms are incomparable. It took Brahms three attempts to come up with this version but his perseverance was rewarded by a true gem of the chamber music repertoire. We, too, were rewarded by a performance by a young ensemble that sets them apart from many others. Inspired interpretation and delivery a wonderful and potent combination.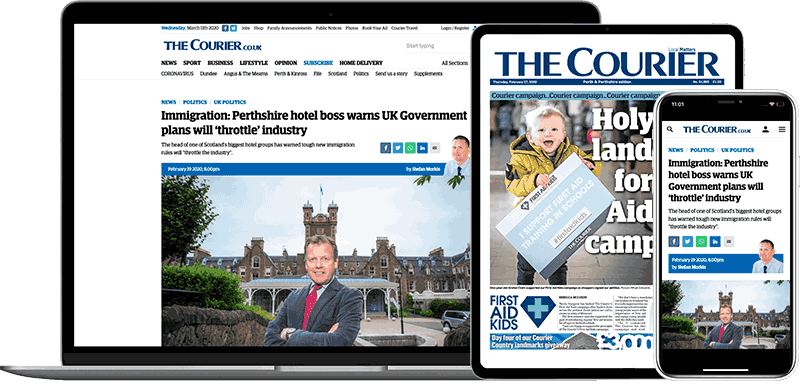 Help support quality local journalism … become a digital subscriber to The Courier
For as little as £5.99 a month you can access all of our content, including Premium articles.
Subscribe