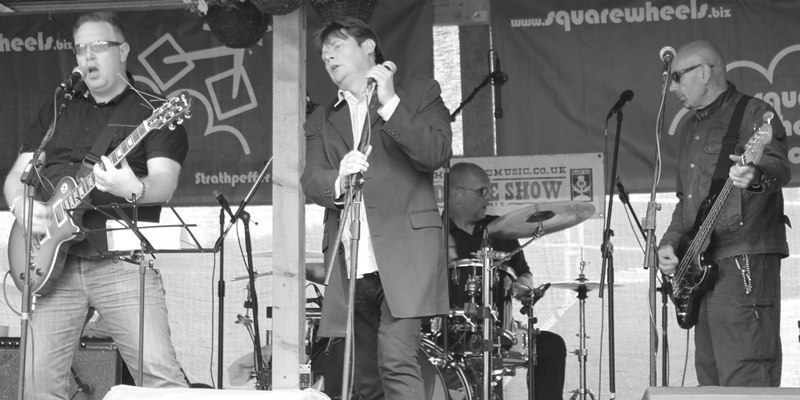 The beauty of festivals is that aside from all the expected delights on the bigger stages, they always throw up some brilliant surprises and unexpected twists.
Last week's Belladrum was no different, with hugely entertaining delights on show all over the place, from the acoustic busking tent to the kids' sumo wrestling ring, headphone disco to the Mother's Ruin dance arena, and playing football backstage with the young offspring of Scottish collective Burns Unit and their superb MC, the pint-sized but big-voiced Soom T.
Initially brought together for Burnsong five years ago, Burns Unit includes Kenny Anderson (King Creosote), Emma Pollock (The Delgados) and Karine Polwart.
They answered a last-minute call after several cancellations for the Hothouse Stage and played a superb set of songs written especially for the Burnsong initiative, along with some newer tunes.
Headlining that stage was Neil Hannon of Divine Comedy, who despite having only a piano for accompaniment, pulled off a cracking set, with National Express the pick of the bunch.
Another great arena was The Potting Shed, a mish-mash of up-and-coming hopefuls entwined with sets from some of the established names on the other stages.Kit ClarkDundee's own Kit Clark was the sponsor's choice for that stage on Saturday, performing stuff from his brilliant back catalogue, including Danny Wilson and Swiss Family classics, plus some great new songs he was unleashing for the first time as a solo artist in front of an enthralled audience.
Despite having to deal with a "floating" keyboard, which moved a few inches with every second chord, Kit's debut solo festival slot went down terrifically well and was a great boost to this new era in his career.
On the main stage, The Wailers produced a predictably fantastic singalong, flag-waving set of mostly Bob Marley era songs, followed by Feeder whose big hit Buck Rogers still has the crowds leaping around like lunatics.
Meanwhile soul goddess Candi Staton claimed the biggest cheer of the night on Saturday when she introduced You Got The Love before Amy MacDonald finished off the night with a typically rousing Scots pop-rock set.
But the biggest surprise of the weekend was the appearance of three familiar faces on the Potting Shed stage, former Dundee band Joe Public's Atholl Fraser, Billy Caulfield and Pete Rankin.
Now with a new band and back performing together after 20 years, the guys now form three-quarters of Diddums, along with new drummer Gary Bonar.Joe PublicBack in the day, Joe Public were one of Dundee's best outfits, touring and making records, with a big following.
They split up around 1989/90 and went their separate ways but then the lure of stepping up on stage together again brought them back into the rehearsal studio, with the end result being melodic punks Diddums.
Guitarist Pete explained how the three got back together after all this time away.
"I'm living in Arbroath now, it was too expensive to live in Edinburgh although I'll probably go back there," he said.
"But me living here got this band going. At first it was meant to be a Joe Public reunion with a couple of gigs, because we hadn't played together for about 20 years, the last thing the three of us did as Joe Public was the tour we did with The Bhundu Boys in 1989 or 1990.
"Everybody was positive about meeting up again but we never even had rehearsals, we only got as far as a few phone calls and we realised nobody was actually really into a reunion, we were more interested in doing something new.
"So we scrapped that idea and formed a new band."DiddumsUnlike the big pop production of Joe Public, Diddums is stripped to the bone, in your face, melodic punk, which they unleashed on the impressive crowd they attracted to the Potting Shed on Saturday.
"This is a million miles away from Joe Public," Pete agreed. "We did our best to make sure of that.
"Back then everything was huge production, layers of vocals and keyboards. It was bilious, but that was the time.
"This is distilled, we've taken it right down to just the bare bones, it's boiled right down to what has to be there.
"The punk scene is absolute rubbish now, all oi and hardcore.
I don't like those things, I like the bubblegum scene it should be fun to do and I want people to be whistling the chorus before it comes, like proper rock 'n' roll.
"I'm into this band more than anything I've ever done in music.
"After Joe Public I didn't do anything much for about three years, then I formed a band called Tribe in Edinburgh, then Poundstretcher, which was a mix of punk and Frank Zappa.
"Everyone else has played in other bands to varying degrees since then.
"We've only done about seven gigs, I think Belladrum was our seventh, we've really just started out and it's quite hard being older blokes.
"To start a new band like that, you pitch up to gigs and it's four guys in their 40s. You tell people it's a punk band and then you pitch up and people expect you to launch into some blues number."FutureAnd the future for Diddums?
"It's difficult to find out where our niche is today, what I really want to do is a brilliant, terrific album and play a lot of gigs, but our attempts so far in the studio haven't really worked out.
"At the moment we don't have management, we'd like to find someone with the right belief in the band to take on the organisation, we really need that because it's really difficult to do that when you're actually in the band.
"We don't want to be going down the wrong road or flogging a dead horse, making stupid mistakes, we want to get it right first time.
"We've been out of the loop for a long time now but we've got a lot of songs up on myspace and facebook, just demos but they give a flavour of the band. We played a few of them at Belladrum on Saturday.
"It was actually Steve Mason (Beta Band) who came up with the name, I was chatting to him and said we wanted a name something like The Ramones that was dumb but intelligent.
"He came up with Diddums, which is very simple and has dum in it, so it worked for me right away."
You can check out their great tunes at www.facebook.com/ pages/ DIDDUMS/328156197800.
And congratulations to the organisers on hosting such a brilliant event once again. Belladrum Tartan Heart Festival continues to be one of Rocktalk's favourite festivals of the year.