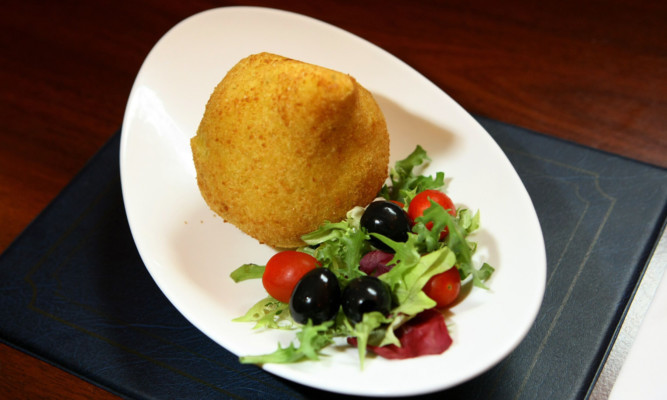 You'll have done it yourself, no doubt: walked past a place for months years, even always intending to go in.
Anyway, to cut a very long story (and quite a long walk) short, the other half and I eventually got ourselves organised a couple of weekends ago and booked an evening meal at Cafe Sicilia.
It's popular during the day for coffees, lunches and serious Italian cakery but it also opens two nights a week (Friday and Saturday) for dinner. It helped that it came recommended by our neighbour, whose dad comes from the same village in Sicily and who really likes this place. An offer we couldn't refuse? It had to be done.
It's a compact venue but it has a nice, homey atmosphere, with a slightly Middle Eastern feel, as befits the eclectic heritage of Sicily itself.
Right from the start, service was charming and helpful exemplary, in fact. We tucked ourselves into a corner and over a bottle of the delicious house red (Ca' di Ponte Nero D'Avola, a very reasonable on-the-table £12.85), we tried to make up our minds.
In spite of the difficulties of many southern nations these days, most people would like to be Italian if they had the choice. You can understand why, when presented with a good, honest and authentically local menu of dishes like this. All pizzas can also be made as calzone (the folded variety) and there were specials including cannelloni of the day (mixed vegetable), casserole of the day (beef with vegetables and tomato sauce) and fettucine, or ribbon pasta, with chicken, bacon, sundried tomato and a touch of cream. Soup of the day was sweet potato and chorizo.
We chose to start with arancini (a deep-fried rice ball with filling, £3.70) and the mixed bruschetta (£5.30). The rice ball was the size and shape of a healthy pear and a beautiful golden colour. I picked mozzarella and mushroom stuffing and it was hugely tasty, adding a meatiness and richness to the soft, melting rice and the robustly crunchy outer coating. A meal in itself, almost. The bruschetta was more interesting than usual three slices of good, crusty Italian bread, topped (separately) with traditional tomato and herbs, a delicately flavoured slice of smoked salmon and leeks sauteed in garlic. Himself loved it and I nicked enough to see why.
When in Rome and all that, not to mix a metaphor too far, I decided to go local with pasta al Gianpiero (£9.95), penne with Sicilian sausage, salami, butternut squash and 'nduja, a smoked, spicy pork paste. I was also asked how spicy I wanted it to be, which was, I admit, pretty spicy. It was gorgeous, out-gorgeoused only by my husband's deceptively simple farfalle funghi i nuci, or butterfly pasta with mushrooms, gorgonzola cheese and walnuts (£8.85). It was rich, nutty and generous, like the ultimate sugar daddy on a plate.
Now, you have to have something sweet in an Italian cafe, especially when it's baked on the premises. I was totally intimidated by the cannolo, as big and blowsy as Gina Lollobrigida in her prime, but allowed myself to be talked into a piece of chocolate and ricotta tart (£3.10), light as air and obviously homemade.
The husband, who has even less of a sweet tooth than I do but who has been known to imbibe a certain liqueur, went for amaretto tiramisu (£3.10) and loved the creamy, almondy take on this popular pud. Two espressos helped us wash it down in proper Italian style.
Our bill for three courses each, wine and coffee came to a smidge under 50 quid. In these days of exorbitant prices and inflated expectations, you really cannot say fairer than that.
Now I'm definitely in Hunger Games training. There's a cannolo at Cafe Sicilia that's just waiting for me!
Rating: 39/50
Price: Starters £3.60-£5.30; mains £6.50-£12.95; desserts about £3.
Info: 123 Perth Road, Dundee. 01382 665454.