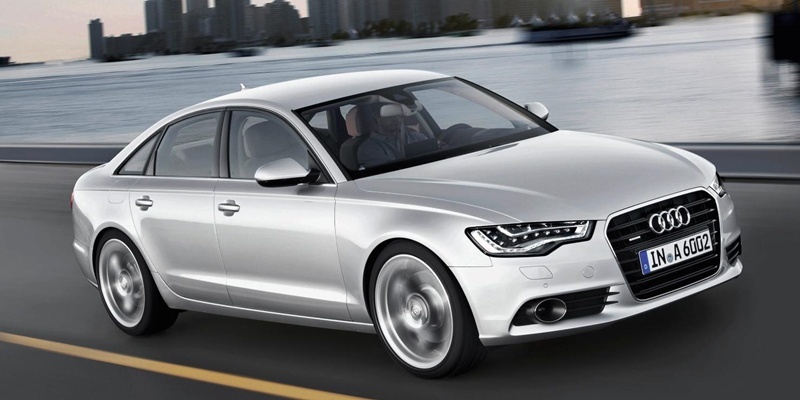 Audi's latest A6 the seventh generation is lighter and more technologically advanced, but it's the refinement and build quality that really impresses.
The kind folks at Dundee Audi loaned me a 2.0 litre TDI in S Line spec for the weekend. The 175bhp unit doesn't have the effortless oomph of the 240bhp 3.0 V6 diesel, but it'll get from 0-62mph in a sprightly 8.7 seconds and it'll top 140mph, meaning it's barely breaking sweat at 70mph.
Fuel economy is 57.6mpg, which is quite an astonishing figure for such a large car and even pips BMW's mighty 520d, which normally sets the standard for efficiency in this class.
Its frugality stems from start-stop technology, a long sixth gear, the car's slippery shape and Audi's careful paring of weight, largely achieved through greater use of aluminium.
The A6 range starts at a little over £30,000 for the 2.0 litre diesel in SE trim. This comes with leather seats, satnav, parking sensors, a clever 6.5-inch folding screen and Audi's drive select package, which lets you choose from comfort, dynamic and auto settings for the steering, gearbox and throttle response. The S Line version adds lowered, stiffened suspension, larger alloy wheels, sports seats, xenon headlights and LED rear lights.
The options list is extensive and includes massaging front seats, TV reception, a head-up display and all-LED headlights.
The A6 is one of the finest motorway munchers there is, eating up the miles with grace and frugality. The diesel engine is a muted hum and there's very little in the way of wind or road noise.
Even with the S Line's stiffened suspension the ride is pretty comfortable, but those who want a magic carpet ride can stump up the extra for air suspension.
The new A6 chassis is excellent at going round bends as well, keeping the car poised and flat throughout even rapid cornering.
Inside, it's unlikely anyone will complain about a lack of space. There's oodles of headroom front and back. Four people can travel in comfort and the car's wide enough that even with five occupants, the piggy in the middle should be quite comfortable.
The cabin's quality is absolutely top notch, with faultless build quality and attention to detail. There's fine wood trim and the overall ambience approaches that of Audi's much pricier luxury saloon, the A8.
The only niggles are that, while the switchgear looks fabulous, some of the controls are fiddlier and less intuitive to use than they should be.
The boot has a nice wide opening and there's a massive 530 litres of space 10 litres more than a 5-Series.
Audi have comprehensively overhauled the A6, improving it in virtually every respect. It's now the lightest, roomiest and most economical car in its class, and can hold its own when it comes to driving dynamics as well.
When it comes to executive saloons, however, people tend to buy their favourite badge. Repeat buyers of the BMW 5-Series, Jaguar XF and Mercedes E-Class should take the A6 for a spin before pulling out their chequebooks though.
Price: £32,495. 0-62mph: 8.7sec. Top speed: 141mph. Fuel economy: 57.6mpg. CO2 emissions: 129g/km.